Heraldas studied International Business and secured funding for his biotech start-up
Originally hailing from Lithuania, Heraldas Gaspariunas graduated from the University of Hertfordshire in 2020 with a BA (Hons) in International Business. He was attracted to the University thanks to its facilities, expertise and study abroad opportunities.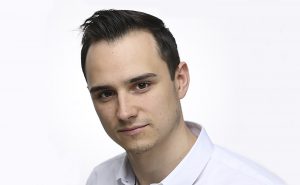 He says "After visiting the Hertfordshire Business School facilities and meeting some of the lecturers, I knew Herts was the right place. I also studied in Australia for one year, six months in Norway, and I completed an internship with FlixBus in Germany for seven months. In every country I visited during my study abroad, I met so many amazing people and made long-lasting friendships. I explored new cultures and broadened my understanding of global business, which has had a positive impact on shaping my life aspirations".
Heraldas is now co-founder and CEO of an early-stage biotech start-up, ACellZ. His company is based on research developed by University of Hertfordshire PhD students and is focused on chemical safety in the eye.
Heraldas has been very successful in securing large grants to grow his business, including £50k from Innovation to Commercialisation of University Research (ICURe), and £300k from Innovate UK.
He has also continued to receive support from Herts since embarking on his entrepreneurial journey, working with their Careers and Enterprise teams to secure internship opportunities and gain a like-minded business network.
He says, "My goal is to grow a successful start-up, where I can continue to learn and improve myself, both personally and professionally. I love working with people to find innovative solutions to problems. I look forward to one day becoming a mentor for others like me within this field".
#WeAreInternational