Blessing is researching sustainable soil-based alternatives to cement
A Civil Engineering graduate from Nigeria, Blessing Adeleke investigated the use of magnesium oxide (MgO) waste, and other industrial by-product materials in construction. 
He is one of several researchers at the University of South Wales who are driving research in soil-based alternatives to cement.
Blessing's PhD explored the use of wastes and industrial by-products in building and construction materials, and his research has underpinned a commercial consultancy contract from Spain on developing a MgO-based binder.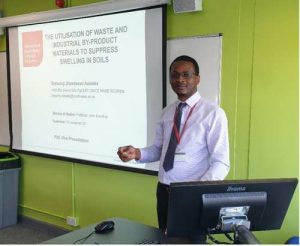 To combat the climate crisis, there is an urgent need to reduce CO2 emissions and develop sustainable alternatives to traditional cement-based technology and applications.
The manufacture of cement is one of the most energy intensive industrial manufacturing processes and is responsible for up to 10% of man-made CO2 emissions worldwide.
The significant demand for these materials, and consequently a significant generation of waste, that poses serious environmental and health challenges.
Blessing says "The decision to study a PhD was to support the clarion call for sustainable development in engineering and construction".
"I chose USW because of its world class research and expertise in civil engineering, as well as its excellent facilities and close links with industry – all of which have been evidenced in my research."
"I am proud to have achieved my doctorate. A PhD requires hard work and sacrifice not just from the researcher but from the families and loved ones too, so it is very rewarding to see it come to fruition."
Blessing's PhD has supported his development both professionally and personally. In addition to his Chartered status as a professional engineer in Nigeria, the doctorate has supported him to become a Chartered Engineer (CEng) with the Engineering Council UK and a full member of the Institution of Civil Engineers (MICE).
It has also enabled his progression from research into academia.
"During my PhD, I had the opportunity to gain teaching experience and obtain a postgraduate teaching certification," he said, "and I am now a lecturer in civil engineering."
"I plan to use my knowledge and expertise to be of value to the world – researching on areas of sustainability in built environment, and inspiring the next generation of civil engineers."
#WeAreInternational