Rabia's studies in public health led her to advise the government on its Covid response
Rabia balanced her Master's in Public Health at the University of Derby with looking after young twin boys and emerged from her studies into the Covid-19 pandemic.
After graduating, she worked for Public Health England (PHE), advising the government on its response to Covid-19.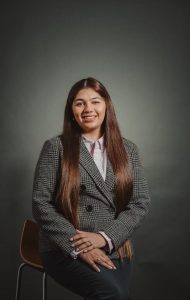 She's now also an associate lecturer at the University of Derby and an assessor at the London School of Economics and Political Science (LSE).
Rabia chose Derby for her master's degree because the location suited her personal situation. Having completed her undergraduate studies in Canada, she worked for four years as a researcher at the Neuroscience Institute in Qatar.
When her husband (an A&E specialist) took up a role at the Royal Derby Hospital, the family relocated to the city, drawn by its central location and affordability.
But there was much more about Derby and the course that appealed to her: "I love the campus – it's spacious with all the facilities you need – including the gym – but it's not overwhelming."
"There's a big community of international students at the University and the Public Health course caters to a global student body and values diversity."
She learned not only about the pressing issues faced by the public health system in the UK, but also to critically assess issues in South Asia, Africa, Central America and others.
Being a part of this lively international community was an enriching experience – as Rabia learned to become an effective listener, and to value and acknowledge multiple perspectives.
Rabia is now working for AstraZeneca as an Associate Director of Epidemiology: "This role is more strategic and operational in nature and focuses on oncology. The team was seeking someone with ten years' experience, but I applied, and they were impressed with my determination to learn and excel."
#WeAreInternational