Sadaf's prize-winning innovative tissue engineering research
An international PhD student at Kingston University whose research could help address the global organ donor shortage took home the top prize in this year's national Vitae Three Minute Thesis competition.
Sadaf Akbari, who is of Iranian heritage and grew up in Dubai, was awarded the prestigious academic trophy after impressing the judging panel with a 180 second presentation about the contribution her research could make to healthcare.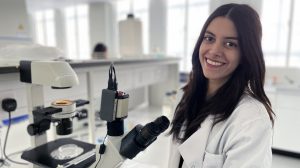 Through her PhD, she is exploring how smart piezoelectric materials that produce electrical charges under pressure could be ideal for replacing parts of damaged bones within the body.
Using computer simulations, she is modelling how structures made from these materials can be combined with a patient's cells to grow engineered tissue that could be implanted within bones to support repair.
"Only 30 per cent of patients on transplant lists get the organs they need – it's a major problem worldwide," Sadaf said. "Engineering tissue to replace body parts damaged by accident or disease could go a long way to helping those who can't access donor organs. The materials I'm working with are exciting because the electrical charge mimics what is observed in natural bones, which attracts minerals to aid repair."
Sadaf completed an undergraduate pharmacy degree at the University of Sharjah in the United Arab Emirates before moving to the UK to undertake a Masters in pharmaceutical science at Kingston University.
"At the time, I could only study this pathway to bachelor's level in the UAE, so was looking at postgraduate opportunities abroad," she said. "I explored options in Canada and the USA but was attracted to studying in the UK as I could do my Masters in one year.
"After that, being able to propose my own project at PhD level here gave me the freedom to follow my interests. With the support of my supervisor at Kingston, it has enabled me to combine my biology expertise with a new skillset in engineering."
Research students from 67 institutions across the United Kingdom and Ireland entered this year's national Three Minute Thesis competition. Sadaf took home a prize of £3,000 in UK Research and Innovation grant funding for public engagement activities and an engraved trophy.
#WeAreInternational