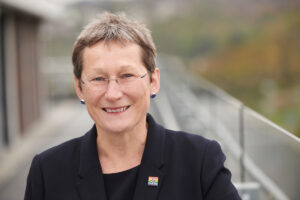 Professor Debra Humphris, Vice-chancellor of the University of Brighton and Chair of University Alliance, has received a CBE in the King's Birthday honours list for her outstanding contribution to higher education.
Professor Humphris has worked tirelessly for the university sector following a 20-year career in the NHS. Originally qualifying as a nurse, Debra's roles have included working as a Senior Research Fellow at the South Thames Regional Health Authority, and at St George's Hospital Medical School. She achieved her PhD in 1999.
Professor Humphris' achievements within the NHS led to her being named in 2018 as one of the 70 most influential nurses and midwives during the first 70 years of the National Health Service. In the same year, she was also – and exceptionally for a professional outside medicine – elected a fellow of the Royal College of Physicians.
Debra has been the chair of University Alliance since 2019, and her term will come to an end this Summer. She was at the helm of the alliance from the very beginning of the Covid-19 pandemic, and her experience and leadership enabled UA and its members to effectively navigate an extraordinarily difficult period. Under Debra's leadership, University Alliance has gained seven new members.
In addition to her role at UA, Debra is Chair of the UCEA Clinical Academic Staff Advisory Group, and the student and regulation policy lead on the Universities UK Board.
University Alliance CEO, Vanessa Wilson, said:
"Debra has played a pivotal role in the higher education sector. As one of the sector's few out LGBT leaders, she is a passionate and valuable advocate for equality and diversity. Debra is an advocate for her students as well, and her steadfast commitment to their wellbeing and success has been a driving force not just for the University of Brighton, but for the sector, which she has influenced through her many leadership roles.
"Debra's tenure as University Alliance chair has seen the sector buffeted by the Covid-19 pandemic and then the cost-of-living crisis. Her steady and compassionate leadership has supported UA, the sector, and me personally to face these challenges head on, whilst always staying focused on what really matters.
"Debra will be missed when her term as UA Chair comes to an end, but this is a fitting way to mark the end of her tenure. I believe that Debra is truly deserving of this honour for her incredible and enduring dedication to both the NHS and the university sector. I am truly delighted for Debra."