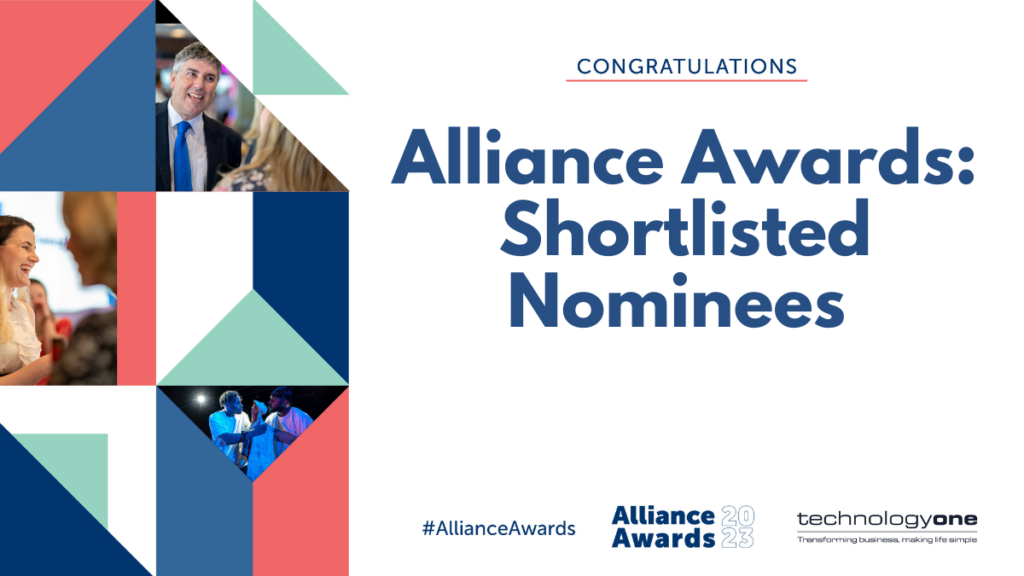 University Alliance and our partner TechnologyOne are delighted to announce the shortlists for our fourth annual Alliance Awards.
Each of the twenty-nine shortlisted nominees has made a significant contribution to their university, often against the odds. The nominees span the full range of university life, from health and safety to student unions, to academics, teaching staff and technicians.
The shortlists for each award were selected by an independent panel of judges from across the higher education and research sector. Some awards received over thirty nominations, and the judges commented on how high the quality of nominations was, and how difficult they found it to select a shortlist.
Each award recognises one of UA's values, and the judges were asked to score each nomination based on how relevant it was to the category, the extent to which the nominee had gone 'above and beyond' and how impactful their work had been.
University Alliance CEO Vanessa Wilson said:
A huge congratulations to all those who were nominated for an Alliance Award, and especially to those who have made the shortlist. To be nominated for an Alliance Award is an achievement in itself: it means you have had a really positive impact on your university, and that your colleagues recognise and appreciate your work. To make the shortlist from a pool of, in some cases, over thirty nominations is even more impressive.

The nominations are a delight to read, and over the coming month or so we will be sharing more information about each of our shortlisted nominees. We are really excited to showcase some of the incredible individuals who make our member universities and the alliance itself so special.
The winners will be announced at the Alliance Awards ceremony on 12 September, which will be hosted by the University of South Wales, on their Treforest campus.
To view descriptions of each shortlisted nominee and their work, go to our meet the nominees page.
The shortlisted nominees are…
The TechnologyOne Lifetime Achievement Award
With thanks to our judges: Steve Hope, Senior Director, TechnologyOne; Vivienne Stern, CEO, Universities UK; Nick Hillman, Director, The Higher Education Policy Institute
Shortlisted nominees:
Professor Helen Odell-Miller OBE, Anglia Ruskin University
Ian Appleford, Kingston University
Paul Butler, University of Greenwich
Professor Julie Newlan, University of Hertfordshire
Stephen Lines, University of Hertfordshire
Find out more about the nominees here
With thanks to our judges: Andrew Disbury, Chair of Duolingo English Test's UK Advisory Group; Tamsin Mann, Head of Policy & Governance, Praxis Auril; Geeta Nathan, Deputy Director of Innovation Ecosystem Strategy, Innovate UK
Shortlisted nominees:
Dr. Edward McCaffrey, Middlesex University
Geo-thermal team, Oxford Brookes University
Greenwich Learning and Simulation Centre, University of Greenwich
USW Intensive Learning Academy for Leading Digital Transformation, University of South Wales
Find out more about the nominees here
The Braveheart Award, supported by UCAS
With thanks to our judges: Sander Kristel, Chief Operating Officer, UCAS; Alison Johns, CEO, Advance HE
Shortlisted nominees:
Dr. Louise Hewitt, University of Greenwich
Vida Greaux, University of South Wales
Dr. Mike Chick, University of South Wales
Dr. Bernadine Idowu, University of West London
Find out more about the nominees here
The Alliance Award
With thanks to our judges: Ceri Nursaw, CEO, National Centre for Entrepreneurship in Education; Isobel Stephens, Executive Director for Strategy, Innovate UK
Shortlisted nominees:
ARU Peterborough, Anglia Ruskin University
Stephen Goodall, Teesside University
Outreach and Educational Partnerships Team, University of Greenwich
USW Students' Union and Operational Policing Team, University of South Wales
Find out more about the nominees here
The Star Award
With thanks to our judges: Fiona McIntyre, Features Editor, Research Fortnight; Rachel Cox, Head of Membership and Engagement, Vitae
Shortlisted nominees:
Menopause team, University of Greenwich
Anabelle Bullock, University of Hertfordshire
Andreea-Daniela Coroama, University of West London
Jamie Whelan, UWE Bristol
Find out more about the nominees here
The Professionals Award
With thanks to our judges: Vicki Stott, CEO, Quality Assurance Association; Yinbo Yu, Head of Engagement and Partnerships, UK Council for International Student Affairs
Shortlisted nominees:
Group Policy Unit, Coventry University
Nursing Team, Leeds Beckett University
Student Learning Assistants Team, Middlesex University
Business growth and entrepreneurship team, University of Hertfordshire
Events team, University of South Wales
Find out more about the nominees here
With thanks to our judges: Isobel Stephens, Executive Director for Strategy, Innovate UK; Daniel Moore, Associate Director, Research England
Shortlisted nominees:
Dr. Laura Sirabella, Ulster University
Dr. James Fortune, University of Hertfordshire
Dr. Paolo Baffero, University of South Wales
Find out more about the nominees here