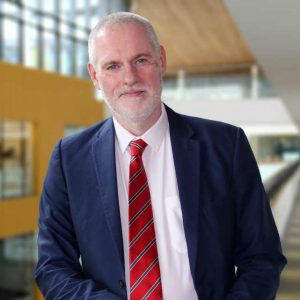 Dr Ben Calvert joined USW in 2015 as Pro Vice-Chancellor for Student Experience, before becoming Deputy Vice-Chancellor in 2019. He took up the role of Vice-Chancellor in September 2021.
Prior to joining USW, he worked at the University of Gloucestershire, progressing from being a Course Leader, to Head of Department, to Dean of Faculty; a post that he held for six years.
As a Dean, Ben managed across a broad discipline base including Schools of Media, Humanities, Art and Design and Computing and Technology. Ben established several new degree courses including Popular Music, Television Production and Radio Production, and was part of a team that secured Skillset Academy accreditation for the School of Media.