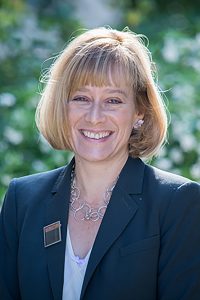 Vice-Chancellor of the University of Greenwich
Professor Harrington joined the University of Greenwich as Vice-Chancellor in December 2019.
She has worked in Higher Education for over 27 years and her specific interests include teaching excellence, the student experience, widening access into higher education and social mobility and improving partnership working across the business, community and university sectors.
Before joining Greenwich, Jane was Deputy Vice-Chancellor and Provost at the University of the West of England, Bristol (UWE, Bristol) for five years and previously worked in senior roles within the university's Faculty of Business and Law, including holding the role of PVC and Executive Dean.
She played an integral part in improving UWE, Bristol's performance in the National Student Survey and achieving Gold in the Teaching Excellence and Student Outcomes Framework in 2018. Jane is proud to have substantially increased all the key metrics across the university during her tenure and developed partnerships, including co-delivered programmes.
Jane has held numerous external roles including chair of Cabot Learning Federation (a large multi academy trust), a director of 91 ways, a member of Bristol Women's Commission, a member of the South West CBI, chair of the SW CMI, vice chair of CABS.