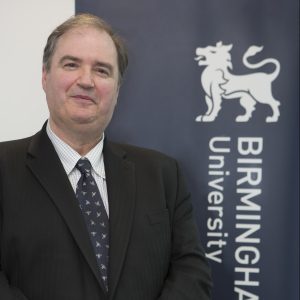 Professor Phillip Plowden
Vice-Chancellor Birmingham City University
Professor Philip Plowden joined Birmingham City University in August 2017, having previously served as Deputy Vice-Chancellor at the University of Derby. Prior to that, Professor Plowden worked for almost 20 years at Northumbria University, where he was Dean of the School of Law.
Professor Plowden graduated with a BA (Hons) in English Literature from the University of Oxford, but then qualified as both a solicitor and barrister. In practice he specialised in human rights and public law. He maintains close links to legal practice and education and is a member of the Law Society's Education and Training Committee. He was also a non-executive board member at the Office for Legal Complaints, which manages the Legal Ombudsman scheme. Before entering the legal profession, he worked for the Citizens Advice Bureau Service in London for almost a decade.
In 2005 Professor Plowden was appointed as a National Teaching Fellow of the Higher Education Academy. His research interests are based in criminal law and practice, and in legal education and pedagogic practice. He also has an interest in the field of privacy law and freedom of information. Professor Plowden has been influential in the development of clinical legal education in the UK, and in strengthening an international network of legal clinicians, centring on the 'International Journal of Clinical Legal Education', which he edited for many years.