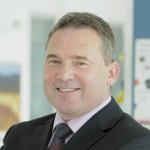 Professor Steve West CBE
Vice-Chancellor of UWE Bristol
Professor Steve West trained as a Podiatrist and Podiatric Surgeon in London, working in the NHS and private sector. He held a number of academic and leadership roles before becoming Vice-Chancellor of UWE in 2008. Professor West is Vice-Chair and Non Executive Director of the South West Strategic Health Authority, an Appointed Member of the HEFCE Healthcare Education Advisory Committee and  Vice-Chair of the UUK Health Education and Research Network. He also continues to develop his research interest in the Diabetic Foot.
Professor West led the University Alliance project, university vision, which started a conversation to explore the issues and challenges facing universities in the future and asking the big questions about how and where universities need to position themselves to deliver the knowledge, networks and communities our country needs.
Professor West served as Chair of University Alliance from August 2012 until September 2016.
Click here for a full profile: Professor Steven West