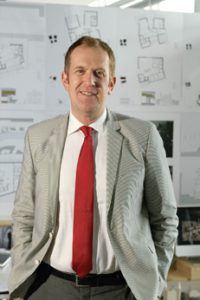 Vice-Chancellor of Kingston University
Professor Steven Spier was appointed as Vice-Chancellor of Kingston University in May 2017 having served as Acting Vice-Chancellor since October 2016. Prior to this he was the Dean of Kingston University's Faculty of Art, Design and Architecture for four years as well as Pro Vice-Chancellor (Culture and Civic Engagement).
His early career saw him based in a number of European cities including Berlin, Zurich – at the Swiss Federal Institute of Technology, ETH Zürich – and later in Hamburg as founding principal of the HafenCity University, a university of the built environment and metropolitan development. He has also been head of the School of Architecture and Design in Belfast and head of the School of Architecture at Strathclyde University in Glasgow.
An acclaimed expert in contemporary Swiss architecture, Professor Spier's many published works include Swiss Made, named one of the books of the year by Architects' Journal in 2003. Also a specialist in choreography as a form of spatial organisation, he edited the first English-language book on renowned choreographer William Forsythe, William Forsythe and the Practice of Choreography. It Starts from Any Point.
Read the full biography on the Kingston University website here.