Winners of the University Alliance's 'Alliance Awards' were announced on Tuesday 7th June 2022 during a ceremony hosted by Kingston University. The awards celebrate excellence in higher education and recognise achievements across all parts of Alliance universities.
The winning individuals, teams and projects were selected for their hard work, dedication and commitment to the University Alliance core values.
Representing 15 of the UK's leading technical and professional universities, University Alliance founded the Awards to celebrate the innovation, commitment and excellence that exists across their membership.
Winners were selected from over 130 outstanding nominees. They included a collaboration between students and staff to provide deeper insights into the experiences of Black, Asian, Mixed Heritage and Minority Ethnic students, a project supporting the health and wellbeing of staff and students through music during the pandemic, and a former DTA researcher who pushed for the empowerment of adolescent girls as part of her PhD.
The full list of winners were:
Alliance Award
Bridging the Gap to Leadership team, University of Brighton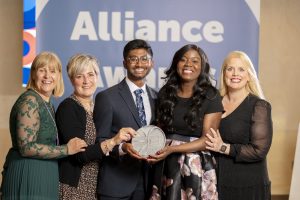 DTA Alumni Award
Dr. Emma Cowley, formerly of Liverpool John Moores University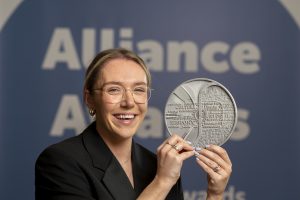 Professionals Award
Fiona Suthers, Middlesex University (award accepted by colleague Marion Taylor, who came to represent the Clinical Skills and Simulation Department)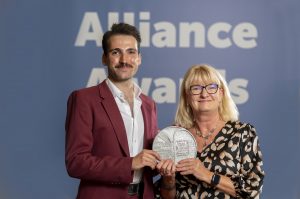 Braveheart Award
Adam Gomes, University of Derby (who was unfortunately unable to attend the event)
Jubilee Award
Vincent John, University of Greenwich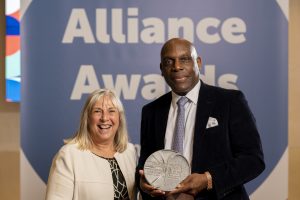 Innovation Award
Joint winners:
Social Work Team, Oxford Brookes University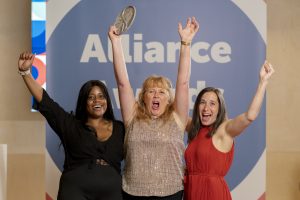 Professor Rev'd Alison Baverstock & Claire Jackson, Kingston University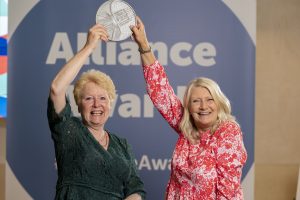 Star Award
UWE Bristol Centre for Music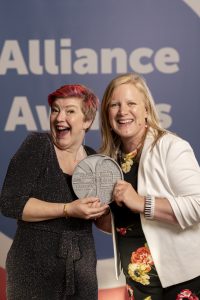 More information about all the finalists can be found here.
The event was hosted at Kingston University's award-winning Town House building. Over 140 guests were in attendance, including University Alliance colleagues and key stakeholders from across government, higher education and partnered industries, for a drinks reception, awards ceremony and gala dinner.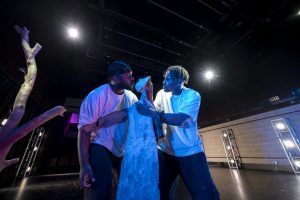 Also included in the evening were performances from students at Kingston University School of Art, and a talk from Kingston alumni and entrepreneurs, Chip[s]Board.
The seven awards categories include five core awards, with each one representing a UA key value: integrity, professionalism, innovation, collaboration and fun.
This year marked the debut of the newest award category: the Jubilee Award, to celebrate the Queen's platinum jubilee. Individuals were nominated for dedicating a lifetime of service to higher education.
Vanessa Wilson, CEO of University Alliance, said:
"The sheer array of projects nominated for the Alliance Award highlights the tenacity and dedication from colleagues across University Alliance, providing inspiration for future projects that the Alliance Awards will be celebrating in years to come."
"Kingston University's award-winning Town House was an incredible place to host the first in-person Alliance Awards, as a celebration and recognition of innovation, dedication and professionalism – something epitomised by University Alliance members and the extraordinary architecture of the Town House."