Studying Business Management
Lauren Sowter felt that she had run out of options and couldn't see where her future lay. Then she discovered Derby and reset her route entirely. Now she's on track for a first-class degree and has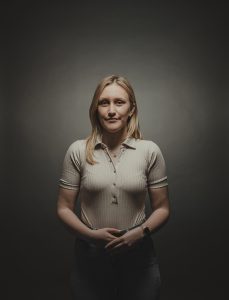 the next stage of her career all lined up.
A real flair
Halfway through her last year at school, Lauren was starting to change her mind about her plans to study Physiotherapy. She also recognised that she felt pressure to move away from home rather than wanting it for herself.
When her exams didn't go to plan and she was offered a place at her insurance choice, she decided not to settle for something that no longer felt right. Lauren remembers her Business Studies teacher saying she had a 'real flair' for the subject and encouraging her to consider relevant courses closer to home.
Impressed by what she read about the Business Management course at Derby, Lauren decided to apply through Clearing.
She says: "I felt like I had let everyone down. For a moment it felt like I was just spiralling, wondering 'do I even deserve to go to uni?' But once you make that step and you start ringing – which I thought was going to be the most terrifying thing – it's suddenly not a big deal."
Falling into place
Lauren says: "I thought I'd ring up and see what happens. I got through to Rob Moon, who's now my dissertation supervisor, so it feels like I've gone full circle."
Lauren describes rejecting her insurance place as 'just horrendous' but the support she got from Derby reassured her that she was doing the right thing.
"There are so many people on your side. Everyone wants you to pull through and do well. They said 'we're going to try and find a solution for you' and it was just so much better. At that point, I knew I wanted to go to Derby. Everything just fell into place."
Lauren encourages everyone in a similar situation to try Clearing: "You're doing what's best for you and that's the important thing. Just because A-levels or your college goals haven't worked out doesn't mean you're any less deserving of a place at uni."
Learning new skills
As a Business Management student, Lauren was keen to learn more about functioning businesses, something her tutors strongly encouraged. She completed several business internships throughout her time at Derby. Two were at the University itself, and another with a market research company.
This exposure to the wider world helped her realise the potential she has to offer the business sector.
Lauren recently started to consider where to go next, and following a rigorous application process, has secured a role on the Aldi Area Manager Graduate Scheme.
She says: "I'm super proud because it's one of the most competitive graduate schemes outside of investment banking. That's my big drive at the minute, I can't wait to get there – September can't come around quick enough."
Sharing her talents
Lauren takes a sensible approach to the activities she spends her time on outside of her course.
Living at home on a farm in Ashbourne in Derbyshire, Lauren had 10 years' experience of riding horses, and so couldn't miss the chance to join the Union of Students' Equine Society. It gave her a place to share her passion for the sport with others who would go on to become her friends. Her background meant she was well-suited for the competition team, becoming competition coordinator from her second year onwards.
She says: "If I had one thing that I could recommend to anyone that came to uni, it would be to get involved with a sports club or society because they're so good for improving your employability, and you don't realise it until you've done it!"
And Lauren is hoping to use her Business Management knowledge to bring about an accessibility change that will have an impact in the society long after she leaves Derby. She says: "We're trying to secure a connection with a local riding centre for people with disabilities because we don't currently have a fully inclusive offering. If there is anyone that's not fully able-bodied, we'd be able to offer Equine to them as well and I think that's really important.
"If you met me three years ago, I would never have put myself forward to do something like this. It just had a snowball effect because I became a lot more confident."
Driving force
Describing her lifestyle as a commuter student, Lauren says: "You've got to be the driving force behind yourself a lot of the time. It would be so easy to wake up and be like 'no, we're not doing this today.'"
She's hoping to continue channelling that drive and enthusiasm by thinking of ways to bring more representation to women working in business.
For now, she remains enthusiastic about her path to Derby and hopes others take up the opportunity when they need it. She says: "It's one of the best decisions I have ever made. It's made me more confident, it's made me the person I am now. I definitely wouldn't be here without Clearing at Derby."