Studying Forensic Science
Finding a voice
Sile Sibanda didn't want to miss out on the uni experience and so changed her plans after results day to ensure she could still start that September. During her time at Derby, she embraced every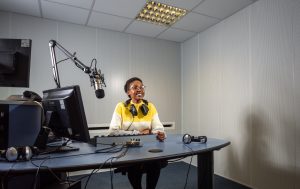 opportunity. As a graduate, she continues to use her voice, both at BBC Radio Sheffield and in performing poetry.
Changing course
It's surprising where life can take you if you're open-minded. That's what Sile found when her exam results weren't what she'd expected. As she finished college, Sile was all set to move from her home in Rotherham to either Teesside, London or Leeds for university.
"I thought I was going to get in to one of those and I was going to be a radiographer," Sile explains.
"And then I get my results and it was like – nope. It's not what I expected, and then the UCAS rejections started coming in and my heart sank.
"I felt like my life was over. I remember crying to my mum on the phone and she said: 'You know what – there's Clearing. Go on there and see if there's anything you like.'"
It was through Clearing that Sile found a course she hadn't considered before within Forensic Science. "And that's how I discovered Derby."
Being excited and interested again
Having bounced around ideas of being a doctor, or working for the NHS in other roles, Sile instead chose to follow something she had more of a passion for.
"Most of my time was spent watching crime documentaries and so being able to do a course in something I was interested in – that excited me," she says.
After making one simple phone call, Sile got a call back the same day with an offer to study at Derby.
Attending a Clearing Open Day, Sile met the teaching team, who showed her the impressive Crime Scene Training Facility used by students on the course.
Now, when she speaks to students who studied forensics elsewhere, Sile recognises that the facilities set Derby apart. She says: "When we tell them about the crime scene house, a lot of them didn't have that. They don't have the experience that we do."
Sile also credits the teaching team for being so tuned-in to current developments. This included placement opportunities and scientific trends being used in evidence.
She explains: "Having lecturers who still work in the industry meant a lot because they knew what was happening."
Deciding on university
Sile knows how important results day and the few days that followed were in terms of laying out her path for the next three years.
She "100%" recommends Clearing to others in the same situation. "You will be surprised with what else you can do, the other opportunities – your mind opens up," she says. "When you're at college, you have that one place you're very focused on and you're like 'OK, I need to get there'. And then when that crumbles you have to be a little bit creative and think: 'If I can't do that, what else can I do?'
"If you really want to go to uni and you haven't got the place you wanted, Clearing is the best option. If it wasn't for Clearing, I don't think I'd have come to uni."
Finding the words
Sile's course would put her in situations that encouraged her to think carefully about communication, as she would need to present facts in front of a judge and jury. The experience bolstered her, as she would go on to present multiple Open Day Live streams for the University as a student ambassador, interviewing students, staff and visitors.
Now she believes this experience helped her win a competition to find BBC Radio Sheffield's next on-air talent, leading to her hosting the weekday evening show. She says: "With radio, you have to know how to talk to different people and there's a diverse group of people in Derby. I think, because I was in my comfort zone, I was able to fit in and talk to loads of different people at different times."
What does the future hold?
Now working as a graduate, poetry has become a surprising route for Sile, as she writes paid commissions for different organisations. She says: "When you're writing poetry at school, you never think: 'Oh, I'm going to make a living out of this.' But I get to do that."
She has goals to combine performing poetry with travelling more. For now, though, she's making an impact closer to home, where – following on from the open mics she would attend during her course – she shares her learnings and passion by leading poetry workshops in primary schools.
"I get young kids to learn or discover themselves, write in poetry as a way to express themselves," she says. "Because that's what poetry did for me – it allowed me to express my feelings, what was going on, get my voice out there, become a bit more confident, and I wanted to give that back."
While Sile doesn't have a set vision for the future, she continues to make the most of her transferable skills. She recognises: "If there's one thing that I've learned at uni and even outside of uni it's to be open minded and flexible, because life has a way of opening itself up to you if you're willing to take different opportunities."