We bring our member universities together as a force for greater good. With a shared set of values and common goals and driven by a mission to unlock potential and effect change.
Working with industry to deliver innovative applied research and practical skills-based learning, our members solve the problems of the future and train the workforce of tomorrow. We act as their voice, advocating for the life-changing work they do.
There are many more benefits to joining the University Alliance, and here are just a few.
Our advocacy, representation & influence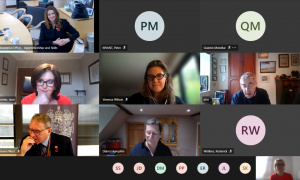 We are extremely well-connected across government with a seat at the most influential tables, including with ministers and senior officials, which enables us to effectively lobby government / partners on issues affecting our members.
We proactively use our channels and platform to profile members and 'tell our stories', engaging the media to represent UA members' perspective.
Our member Vice-Chancellors e joined by the Minister for Apprenticeships and Skills, Gillian Keegan MP for a recent meeting.
For more information, visit our news and blog section of the website.
Our Networks
We run 30+ professional and academic networks bringing together peers across the membership to engage on common issues and problem solving. The networks enable members to share and showcase their expertise and innovation, and we regularly invite external stakeholders, speakers and decision makers to discuss topical issues including Ministers, Chairs and CEOs of sector bodies.
All of our networks are designed to deliver tangible benefits to our members through brokering powerful connections and delivering solutions and outcomes.
For more information, visit our Networks section of the website.
Our Programmes
The Doctoral Training Alliance (DTA) is coordinated by University Alliance, and is a funded PhD programme run across 20 universities and partner institutions.
DTA researchers benefit from financial support and an enhanced training programme and support network. This gives them access to not only the world-class facilities, supervisors and support at their home institutions, but also a broader professional community, spanning all 20 partner universities.
The DTA is the largest nationwide doctoral training initiative across the UK, and currently benefits from funding through Marie Skłodowska-Curie COFUND Doctoral Fellowship programme.
For more information, visit the DTA website.