Coventry University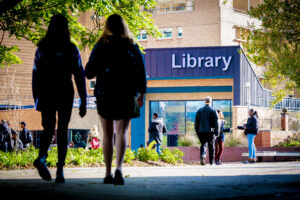 Key Stats:
Coventry University was founded in 1843 as the Coventry School of Design
4 QS Stars for Research (QS stars university ratings)
Ranked in the top 50% of UK Universities for Research Power (Times Higher Education analysis of REF 2021)
5 QS Stars for Internationalisation (QS Stars University Ratings)
Joint Top Modern University for Career Prospects (Guardian University Guide 2021 and 2022)
5 QS Stars for Employability (QS Stars University Ratings)
Coventry University
Coventry University is widely recognised as a forward-looking and modern institution that prides itself on providing high-quality education and fostering academic excellence. With a strong commitment to applied research, innovation, knowledge transfer, and service provision, Coventry University offers a diverse range of educational options within the broader Coventry University Group.
Students have the opportunity to pursue their studies in various locations, including Coventry University London, situated in the heart of the capital. This branch offers a unique academic experience within a vibrant metropolitan setting. Alternatively, the CU options provide flexible study programmes tailored to accommodate students' work, home life, or other commitments. These options are available at Coventry, Scarborough, and London campuses, allowing students to select the location that best suits their needs.
Expanding its global presence, Coventry University also extends its educational offerings to Coventry University Wroclaw in Poland. This international branch provides students with an opportunity to study in a different cultural and academic environment while earning a degree awarded by Coventry University.
Coventry University is dedicated to providing students with state-of-the-art equipment and facilities across all academic disciplines. From health, design, and engineering laboratories to performing arts studios and computing, students have access to cutting-edge resources that enhance their learning experience.
As a testament to its commitment to excellence in teaching and learning, Coventry University has been selected to host three national Centres of Excellence. These centres have enabled significant investments in the fields of health, design, and mathematics, further enhancing the educational opportunities available to students.
With a city-centre campus that is continually evolving, Coventry University maintains a strong presence in Coventry, contributing to the city's friendly and vibrant atmosphere. The university's close ties to leading businesses and organisations in the public and voluntary sectors create valuable opportunities for students to engage in projects and placements that enhance their employability upon graduation.
Coventry University recently launched an ambitious new strategy called "Excellence with Impact." This transformative approach aims to revolutionise the university's research methodology by applying fresh and original approaches. The strategy seeks to ensure that Coventry University's research efforts have a significant and tangible impact on various aspects of society.
To stay informed about the latest and most impactful research conducted by Coventry University, individuals can visit the university's research blog, which provides valuable insights into ongoing research endeavours and breakthroughs.