Kingston University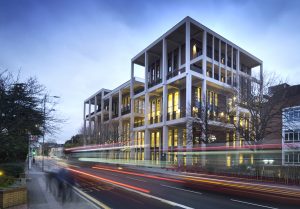 Key Stats:
Kingston University was founded in 1899 as Kingston Technical Institute

There are 13500 students at the university

The University was ranked in the top three for graduate start-ups nine years in a row

Kingston is number one in the country for design and crafts
With nearly 20,000 students, Kingston University is the largest provider of higher education in south-west London, offering an extensive range of undergraduate and postgraduate courses. The University is a growing force in research and a pioneer in entrepreneurship.
The latest Higher Education Business and Community Interaction Survey 2014/15 reported that, for the sixth time, Kingston had the highest number of graduates starting up their own companies out of any institution in the United Kingdom.
A new report published in 2016 by BiGGAR Economics shows that Kingston University is making a substantial economic contribution to the local borough, London, and the UK as a whole. The report found that in 2014/15, Kingston University generated an estimated £921.1m and supported 12,500 jobs throughout the UK.