Middlesex University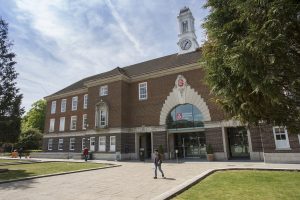 Middlesex University is united by a shared purpose: creating knowledge and putting it into action. A global university with international campuses, Middlesex University uses its educational andresearch outputs, and engagement, to effect personal and social change across the world in such vital and complex issues as social justice, culture, health, sustainability and prosperity.
Middlesex is a distinctive type of university – distinctive in the practice-oriented way it educates, researches and engages with society. Focused on dynamism and relevance, it operates flexibly in a global network of partners, aiming to deliver transformative education that impacts on global challenges and to develop an action oriented, high-performing learning culture. Its legacy of innovation and radical creativity includes the UK's first Business degree and professional doctorate, and its sector-leading work-based learning and transnational education.
Passionate about making high quality education accessible to all through flexible modes of learning, Middlesex takes a distinctive approach to teaching with practice at the heart of everything it does. Students at Middlesex experience education, research and the world of work side-by-side. They develop the confidence and future-ready skills sought by top employers and they are empowered to shape their own lives and the world around them.
The Middlesex community is diverse, inclusive and equitable, with over 165 student nationalities in its London campus. The Times Higher Education (THE) Impact Rankings, which assess universities against the United Nations Sustainability Development Goals (SDGs), recently ranked Middlesex 12th out of 776 institutions globally for SDG5 Gender Equality.
Research and engagement at Middlesex also create impact in the public realm, improving equality, diversity and inclusion and reaching disadvantaged groups. Formed from a unique combination of enterprising and mindful practitioners, academics, professionals, organisations, students and alumni, Middlesex University develops collaborative advantage and achieves sector-leading quality in what it chooses to do.