University of Brighton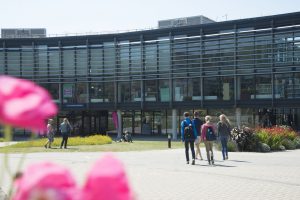 Key Stats:
The University of Brighton has its roots in the Brighton school of art founded 1858 and the Brighton School of Science and Technology founded 1897

Over 20,000 students study at the university

The university has been awarded a silver award for its teaching quality

Over 4000 students at the university study subjects allied to medecine
The University of Brighton has four campuses in Brighton and Eastbourne. Subjects taught range from medicine to engineering, psychology to illustration, sport science to English literature.
The University's wide-ranging research has been assessed as world-leading in a number of areas, including Computer Sciences and Informatics and Sports and Exercise Science, and as internationally excellent in the areas of Engineering and Earth Sciences. In addition to its internationally renowned teaching, practice and research in the Arts and Design, it is also one of the UK's leading teacher training universities and a major Higher Education provider for healthcare and engineering professions.
In partnership with the University of Sussex and local NHS the University of Brighton sponsors the Brighton and Sussex Medical School, which is rated by students as one the best in the UK.
The University is a major contributor to the social and economic health of the city region including through its many partnerships with local government, public sector, business and industry. Through its Academies Trust it directly supports the education of over 7,500 local pupils in 15 schools across Sussex.