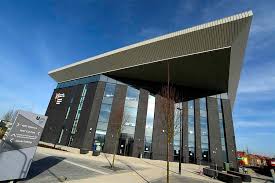 Teesside University's National Horizons Centre is a state-of-the-art bioscience education, training, research and innovation facility. It will house academics and business development staff from Teesside University, working in partnership with regional, national and international industry players to provide specialist education, training and professional development for the current and future workforce, and to promote industry-focused innovation and research.
The NHC will also offer businesses a number of Continuing Professional Development (CPD) courses, which are currently being developed with input from major UK businesses including Fujifilm Diosynth, Quorn, Hart Biologicals, GlaxoSmithKline, and AstraZeneca UK, who are helping the University to identify the current and future skills gaps that the courses will need to address.
In Short:
The NHC is a £22.3 million state-of-the art biosciences facility located at Teesside University's Darlington Campus.
It has been financially supported by the Local Growth Fund, via the Tees Valley Combined Authority, and the European Regional Development Fund.
It will open in Spring 2019.
It will allow researchers, students and academics at the university to work with industrial partners including Fujifilm Diosynth Biotechnologies and the Centre for Process Innovation (CPI).
Laura Woods, Director of Academic Enterprise at Teesside University, said: 'The NHC will play a vital part in the University's mission to help drive economic growth, here in the Tees Valley and nationally.
'We want to be confident that the NHC directly addresses the industry's needs.
'It is fantastic that so many key players in this innovative and exciting sector are already involved, and we look forward to working with even more companies in helping the Tees Valley meet the challenges of the Government's Industrial Strategy.'
Nigel Perry MBE, Chief Executive Officer of CPI, with whom the university has recently signed a three year memorandum to work in partnership, said: 'By working more strategically in partnership with Teesside University we can accelerate the provision of the knowledge and infrastructure that attracts, supports and grows companies and which helps to provide new jobs and new products for the UK.
'This Memorandum of Understanding will drive close collaboration, enabling research, and driving skills and local economic development – for the benefit of both our organisations, the local economy and wider scientific and manufacturing networks.'