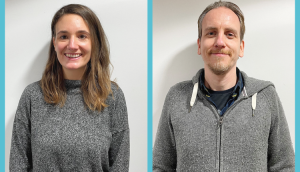 The University of Brighton was one of the first universities to offer a degree apprenticeship route at Masters level for MSc Town Planning.
The programme is accredited by the Royal Town Planning Institute (RTPI) and Royal Institution of Chartered Surveyors (RICS) and has now seen over 20 apprentices progressing in positions at local planning authorities across the South East. There is a specialist focus on sustainable and economic development, coastal regeneration, and climate change – which all draw on social responsibility and core values at the University of Brighton. Find out about our Chartered Town Planner Masters Degree Apprenticeship:
https://www.brighton.ac.uk/business-services/professional-development/apprenticeships/construction-and-the-environment/chartered-town-planner-masters-apprenticeship.aspx
Hear from two of their new apprentice cohort:
"I have been working in planning for seven years and have been determining smaller planning applications. Doing this apprenticeship will help me better understand development designs and allow me to progress to a role determining larger, more complex planning applications.
"I have worked for Eastbourne borough council for nearly 2 years and was working for Lewes district council prior to the merger of the two. Colleagues of mine have previously completed the apprenticeship, so when I found out that I was able to enrol this year, I put my name forward.
"Being a qualified town planner will open up so many different roles and career opportunities for me. I'm looking to progress to a specialist town planner, focusing on determining larger planning applications. I'm currently enjoying learning about planning history and interacting with people from different backgrounds. I'm looking forward to expanding my knowledge on development design and overcoming environmental and spatial issues in the course of assessing planning applications." Robin Hirschfeld, Senior Caseworker, Eastbourne Borough Council.
"I already had a degree in Architecture, and I was looking to build upon this but take a slightly different path, Town Planning provided that opportunity. When I was offered the chance to become an apprentice with Arun District Council that was a real help, from a financial perspective but also in terms of being able to apply my studies to my new role as a planner.
"I already had a place to study the course full time however, over the summer the apprenticeship was advertised, and I decided to apply as I knew it would be a great opportunity. The structure of the apprenticeship works really well, I really enjoy being in a workplace whilst studying as I feel I have a great support network from both the University and my employer." Hannah Riddle, Planning Apprentice, Arun District Council.