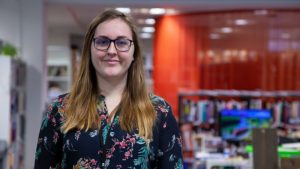 Studying on an Architecture Degree Apprenticeship at Oxford Brookes University led to Tegan Ramsey becoming an architect apprentice at the global firm Gensler.
Tegan started her undergraduate degree at Oxford Brookes University in 2012 but unfortunately had to delay studies as a result of being diagnosed with multiple chronic health conditions, including psoriatic arthritis, chronic migraine, and hypothyroidism. However, Tegan had always wanted to study Architecture and eventually graduated in 2018.
Her apprenticeship journey has inspired Tegan to spread the word about the advantages of taking an apprenticeship, as it balances the practical and academic aspects of study. The integrated nature of the apprenticeship has helped her acquire new skills in the workplace.
Tegan is most proud of the fact that she has come from a position of being mainly housebound, to ultimately sustaining herself, whilst independently working and studying as part of the first group of architectural apprentices at Oxford Brookes.
Tegan commented: "My work mentor at Gensler is very proactive and has regular contact with my academic tutors at the university, so we really feel like a collective group. What's great is that the university tutors have introduced me to ideas and concepts within architecture that I wouldn't have explored if I hadn't taken this course, including artificial intelligence and automation within design, virtual reality, and visual effects.
"I wouldn't have dreamt four years ago that I could have made it to this position, and so I always try to highlight the struggle I've been through to get here."
Oxford Brookes offer a range of apprenticeships with multiple opportunities for integrated work placements. More information below and on their website.
Developing to build your future. Find out how our apprenticeships create a pool of talent that apply learning effectively in the workplace. https://t.co/THUGPkkAc4 #NAW2021 #BuildTheFuture pic.twitter.com/tYVGvBmf0P

— Oxford Brookes University (@oxford_brookes) February 8, 2021