The opportunity to combine practical learning with work experience was perfect for Pfizer employee and degree apprentice Adam Gymer.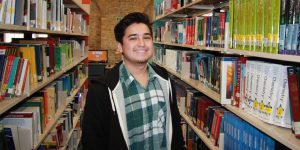 "I was never very good at textbook learning", admits Adam Gymer. "Practical work is what does it for me."
After leaving grammar school in Kent, Adam started working with Pfizer on an Advanced Apprenticeship with the University of Greenwich. He then embarked on the full degree apprenticeship, graduating with a first-class BSc in Chemistry.
It is the ideal formula for the young chemist, whose professional work is in laboratory science.
"My supervisor and I got in contact with University of Greenwich to see if we could get me onto the HNC," he says. "I went to work four days a week and came to the campus one day a week."
"I learn the theory, and when I go back to the labs, I can see it being applied in the workplace immediately. That makes it click for me," he adds.
"I'm working in organic chemistry, trying to find the best conditions for a given chemical reaction, so I get a lot of exposure to the areas I'm interested in.
"I've worked on medicines to treat lung cancer, breast cancer, and pancreatic cancer."
Pfizer puts its faith in Greenwich
Degree apprenticeships require strong partnerships between universities and employers.
Businesses need quality teaching for their recruits, while universities rely on companies to provide the workplace support that apprentices need to fulfil their requirements.
Pfizer, a global biopharmaceutical company, endorsed Greenwich as the best option.
"They knew the education would be to a good standard and that they would teach us what we need to know to operate well in the workplace," Adam explains.
"I like the way the course looked. It was an opportunity," he says.
While combining work and study is a challenge, Adam is glowing about the support he receives from the university and the whole team at Pfizer.
"My supervisor is very keen on the education side and sees it as equally important as the work I'm doing at Pfizer," he says. "If I need extra time, I can take it."
"I can also take any questions about university work to the specialists at Pfizer, and they'll help me out, and that's really good.
"The help we get from Greenwich is great as well," he adds. "If we're struggling, we can meet up with tutors and lecturers."
"There are so many benefits"
So, how does it feel to be among a team of world-leading scientists? Adam says Pfizer's culture of learning helps apprentices feel like part of the team.
"They know we're less experienced, but they still give us challenging work because it's a learning experience for us. They're really open to that," he says. "I feel very valued."
The other benefits of degree apprenticeships are equally striking.
Apprentices gain an academic award and work experience without the concerns of tuition fees or student loans. Businesses benefit from the development of talented recruits, who they can embed into the company from the ground up.
"It's a pretty good deal," Adam admits.
"I'm essentially getting a degree and five years' work experience in a relevant industry. I also get paid, so I can support myself.
"Once I've done the five years, I'll have a complete degree with the possibility of a full-time job at the end, since I've trained for the five years in that job.
"Hopefully I can stay in the industry," he adds. "Where I'm working right now is perfect for me – I really enjoy it."
His advice to anyone thinking about a degree apprenticeship? Give it a shot!
"There are so many benefits," he says. "You have paid education, a salary, and five years of relevant work experience, which is invaluable.
"It's not the easy option, but if you're like me and you love practical work and getting stuck in, definitely give it a go!"