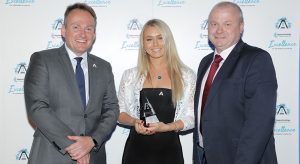 Emma Beauchamp is enrolled on the Chartered Manager Degree Apprenticeship at Teesside University. She was also named as the region's Degree Apprentice of the Year in 2019. The 21-year-old from Darlington is combining her studies with working at engineering company Gestamp Tallent Ltd in Newton Aycliffe.
Through her apprenticeship, Emma has mentored students at a local college and supported apprentice recruitment days for two years.
She said: 'I really wasn't expecting to win so I am over the moon. Without a doubt, the biggest benefit I have seen from doing an apprenticeship is my increased confidence.
'From going into schools and speaking to leavers considering their career options to presenting my ideas to colleagues, I have been given the opportunity to develop my interpersonal skills – all thanks to my apprenticeship and my employer.'
Emma added: 'I feel incredibly fortunate to have chosen the route I did. I am constantly reminded of how beneficial it is going to be when I finish my degree to already have four years of work experience under my belt. I still get to enjoy my twenties alongside gaining a degree and building my career four years earlier than everyone else.'
Emma is a member of the first cohort of CMDA apprentices at Teesside University Business School. The qualification was launched in 2017 and upon completion, graduates receive a BA (Hons) Management Practice and full Chartered Management Institute (CMI) Chartered Manager status.