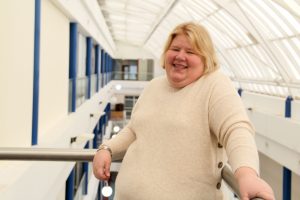 Gareth and Rachel are two of the five staff from Newport Wafer Fab (NFW) studying on the University of South Wales' Semiconductor Technologies degree apprenticeship.
NFW have been producing world-class, high-end silicon devices for more than 30 years, Dad-of-two Gareth, 45, from Newport, has worked there for 20 years and his colleague Rachel Watkins, 48, from Abergavenny has been there four years longer.
Understanding the vital importance of having workers who are at the industry's cutting edge, NWF  has supported staff development and is working with the University of South Wales (USW) to offer targeted study options. These degree apprenticeships are specially-designed to combine the expertise available in higher education with the needs of industry, so both students and employers can benefit.
As long-time employees of NFW, both Gareth and Rachel have studies for multiple qualifications  at the company and this commitment to learning has seen them both progress to more senior roles.
"During the time I've worked for NWF I've been able to develop my skills by completing different courses," Gareth explained.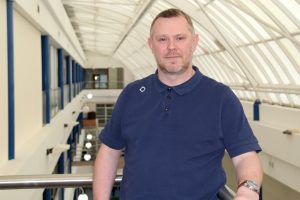 "I've done lots of different jobs here, and the qualifications have helped me work my way up through the ranks."
Having A-levels and a HNC meant that Rachel didn't have to do further qualifications to get on the apprenticeship degree course, while Gareth's in-work study meant he was able to secure a place. And having these exam successes under their belts also meant the length of their degree course was cut.
"The course is supposed to be five years long," Rachel said. "However, the prior learning means that Gareth and I only have to study for two years to complete the degree, so should graduate in 2021."
Before that happens, both Gareth and Rachel have some challenging times ahead. They will both be working full-time while also studying for around 10 hours a week. They are also involved in a project team with three other NWF staff who are also doing the same degree apprenticeship course with USW, meaning there are more demands on their time.
However, as they have both discovered, as a result of their previous learning experiences, having higher qualifications is vital if they're to get further work opportunities.
"Having a degree will open doors for me at NWF and give me a much greater knowledge of developments in semiconductors across the wider industry," Gareth said.
"The degree apprenticeship is win-win for everyone involved. I get to do a degree while earning, and the company's employees learn new skills and develop knowledge that can strengthen its position in the market.
"It's something I'd definitely recommend to anyone who is given this opportunity to develop themselves and their careers."
Rachel added: "Having a degree opens up so many more opportunities in both this job and across the wider industry. To do certain jobs you need a degree, and this definitely helps you to achieve that aim."