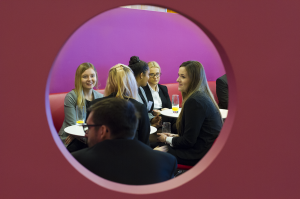 The latest BIS Graduate Labour Market Statistics is good news for graduates with the high-tech skills employers are demanding.  Not only is the employment rate for graduates the highest since 2007 but they are more likely to be employed in high-skilled jobs than non-graduates.
Maddalaine Ansell, Chief Executive of University Alliance, said:
"The latest figures demonstrate that degrees continue to be vital for supplying graduates to meet the high-tech skills needs of the UK's knowledge economy.
"Advances in technology are transforming the way we work and most new jobs are in high-skill areas.  Employers want graduates that are analytical, problem solving and who have great communication skills.
"Alliance universities offer practice-based, industry-focused courses which give our graduates the skills employers want and enable them to hit the ground running in their chosen careers."
Notes
The BIS Graduate Labour Market Statistics published today revealed:
The employment rate for working age graduates of 87.5% is the highest level seen since the 88.3% recorded in Q4 2007.
The unemployment rate of 3.9% for young graduates is the lowest Q1 rate since 2007.
The postgraduate earnings premium over graduates has widened over the last year across both young and working age populations.