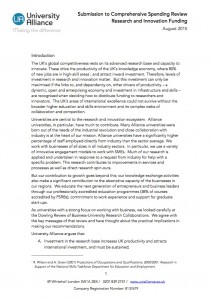 We've published our submission to the Comprehensive Spending Review – Research and innovation funding.
We have also summarised the key priorities for research and innovation funding we are calling on Government to bear in mind ahead of the CSR.
They are:
Investment. Research funding boosts UK growth and productivity and attracts high levels of inward investment. Government must invest at competitive levels through the dual support system.
Research excellence. Because competition drives quality, research funding for universities should continue to be allocated "wherever excellence is found".
Collaboration. Funding bodies must reward collaborative and interdisciplinary research. Collaboration not only fosters innovation but guards against duplication and inefficiency.
Knowledge exchange. National knowledge exchange schemes improve the innovation capacity of businesses through investment in human capital. Funding could be streamlined for national and regional objectives – but support must be retained.
Science and innovation. The Government's science and innovation audits need to capture the wide range of university-business partnerships. This must include activities with small- and medium-sized enterprises.
Click on the document (right) to read what we are calling on the Government to support.