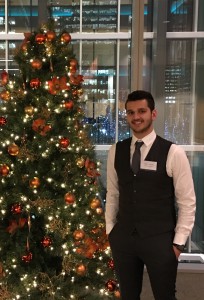 Joshua Chauhan, a second year law student at Plymouth University, recently attended an open day at Clifford Chance law firm exclusively organised for Alliance universities students. Below he shares some of his experiences from the day.
An Open Day in the offices of any law firm is always a welcome insight for a law student. An open day at a 'magic circle' firm such as Clifford Chance is therefore an invaluable experience, particularly to someone interested in commercial and corporate law such as myself.
Together with other students from Alliance universities we attended one of five events held during the academic year as part of Clifford Chance's 'Open Door' policy to encourage students to find out and understand more about the ethos and environment of a city firm. On first arriving in Canary Wharf it was impossible not to feel both dwarfed by the enormous surrounding buildings and awestruck when entering the ultra-modern lobby of the Clifford Chance office. However, over the course of the day we were exposed to many varied activities, taking us much further than the impressive exterior, and to see how a top law firm in the UK operates was a mixture of both surprising and reassuring.
The first session introduced us to the core composition and values at Clifford Chance, as well as allowing opportunities to network. This was a great chance to meet both successful lawyers and the Clifford Chance graduate recruitment team. On offer was not only an insight into the day to day activities of legal professionals but also a chance to ask questions about future steps in a career in law: specifically – what does a firm such as Clifford Chance look for in the lawyers of tomorrow? Also, the day was a good opportunity to speak to students at other universities and compare how law is taught across the country.
Perhaps the most informative session was a 'demystifying' workshop from a solicitor with experience in mergers and acquisitions across the world. We were given an introduction regarding this area of law before being tasked to apply this to a real life scenario. It was great to learn from someone who is actually practicing on a day-to-day basis.
Later in the programme we were given a tour of the building. It was a genuine surprise to discover that the law offices contain a restaurant, hairdressers, auditorium, gym, squash courts and even a swimming pool on the 5th floor! The event concluded with a Q&A session fielded by several trainee solicitors who provided advice on the application process.
Overall the day was interesting and insightful: an experience which we felt fortunate to have been able to have.