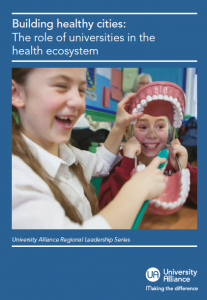 Building healthy cities: The role of universities in the health ecosystem is the first study of its kind examining the ways in which universities as anchor institutions relate to regional health ecosystems. It argues they are uniquely placed to integrate the complex web of organisations that make up a local health economy.
You can read more of our case studies from Alliance universities here.
Reflecting on both the financial pressures facing the NHS and the government's agenda of devolving more powers and budgets to city regions, University Alliance examined local practice in Bristol as a model for how different bodies and agencies can work together to deliver better outcomes and make a real difference to those living in the community.
Building healthy cities outlines the increasing contribution universities are making to building healthier cities and regions and tackling public health challenges through research-informed policy and practice in areas such as built environment, planning and community health.
The report is the first in a series of University Alliance publications this year, focusing on the leadership role of universities as anchor institutions in cities and regions, working within wider ecosystems and responding to common real-world challenges in an enterprising, innovative and creative way.
You can read our full press release including recommendations from the report here.