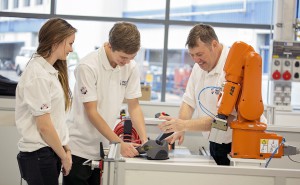 Ever read a history book and come across the story of an apprentice bound body and soul for seven, eight years or more, on little or no wage, to their master to learn a craft or trade and acquire the high status that came with it?
Today's modern apprentices couldn't be more different from their historical forerunners. In recent years,apprenticeships have made a massive comeback to provide young people (and indeed those of all ages) the option of earning money and kick-starting their career – while receiving the high quality and relevant training, knowledge and skills they need to succeed.
Degree Apprenticeships have taken this to a whole new level. Many Alliance universities have pioneered a wide range of such courses which are co-designed with employers to help produce tomorrow's leaders in industry, healthcare and other sectors. They are supplying the future pipeline of people with the best talent to help companies, organisations and their communities to thrive.
A vital characteristic of Degree Apprenticeships from our universities is the close working relationship built up with employers to develop a course that delivers big on the practical skills industry desperately needs. Sheffield Hallam University's Chartered Manager Degree Apprenticeship with Nestlé leads to a degree, a guaranteed job and membership of the Chartered Management Institute. Thirteen apprentices are studying on the programme, which will see the students take up full-time roles within Nestlé while also spending six weeks a year studying at the University's Sheffield Business School.
This brand new government-backed apprenticeship is aimed at boosting the number of professional managers in the UK and driving productivity and business growth.  It is also being offered by other Alliance universities including the Nottingham Business School at Nottingham Trent University, inspired by the Business School's sponsored degree programmes with blue chip companies such as Boots, Experian and Rolls-Royce. Meanwhile, UWE Bristol will welcome its first degree apprentices for its Chartered Manager Degree Apprenticeship in 2017.
Filling skills gaps is a key motivation for the engineering industry – according to the Engineering UK report 2015, there will be an expected 2.56m job openings in engineering companies up to 2022. The University of Greenwich is working with Ford on the delivery of a Degree Apprenticeship designed to meet specific skills gaps identified in the car manufacturing giant. These are aimed at candidates who are interested in mechanical and electrical engineering practices or IT. Extensive consultation with senior management at Ford informed the development, design and delivery of this programme. This enables it to meet the academic requirements and allow for those on the course to progress to registration as a Professional Engineer and ongoing professional development.
Moving on from one household name to perhaps one equally or maybe even more recognised worldwide – the BBC. The broadcaster joined forces with the University of Salford on The Broadcast Engineering degree-level apprenticeshipto address the shortage of modern multi-skilled broadcast engineers identified during the London 2012 Olympics. Today the scheme's employers also include ITV, BT, Arqiva, Red Bee Media, C4 and IABM.  The work-based learning, undertaken by the BBC, has led to successful accreditation by the Institute of Electrical Technicians – further enhancing students' employability credentials and future career progression.
And earlier this year, Salford also announced that it is to develop a new Degree Apprenticeship with Siemens, the global engineering giant, and Trafford College. This would allow company recruits to study block release at Trafford College and the University, working seamlessly from Higher National Certificate/Higher National Diploma to Bachelor of Engineering level. They hope to see the first graduates from this three-way collaboration in 2018.
One of the most exciting emerging industries for apprentices is the digital sector. There is a huge skills gap in this area – with Go.On UK, a charity set up to promote digital skills, finding that over 12 million people, and a million small businesses in the UK do not have the skills to prosper in the digital era. The global digital services market will be worth as much as the entire UK economy by 2020. For those with aspirations of working in the digital or technology sector, a new degree apprenticeship in Digital & Technology Solutions could offer an alternative route into this fast-developing profession.  Students work full-time with an employer while studying on site at Manchester Metropolitan University's £75m Business School.
The University of Hertfordshire will offer the Digital & Technology Solutions Degree with specialisms in Software Engineering or Network Engineering (by the School of Computer Science) from September 2016. The University's Hertfordshire Business School will also start running the Chartered Management Degree from then as well.
Getting work experience and a full degree – and a full-time wage at the same time – can give our modern-dayapprentices a unique opportunity – the best of the worlds of work and study.