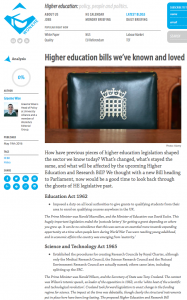 Following the publication of the Government's White Paper for Higher Education, University Alliance's head of policy Graeme Wise takes an in-depth look at how previous pieces of higher education legislation shaped the sector we know today.
Writing for Wonkhe, Graeme starts with the Education Act in 1962 before progressing through the next five decades, asking what's changed, what's stayed the same, and what will be affected by the upcoming Higher Education and Research Bill?
You can read our response to the HE White Paper here.