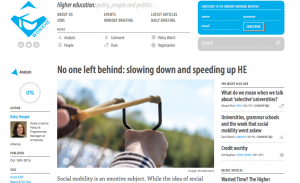 Daisy Hooper, Senior Policy & Programmes Manager, has written a blog for Wonkhe on social mobility. She argues:
'If Britain can only succeed as a knowledge economy, we need the majority of the population to be educated to higher levels. This will not be achieved in an education system where opportunities to study at a higher level are restricted for the few. Social mobility should mean helping everyone to achieve their potential.'
You can read the full piece here.