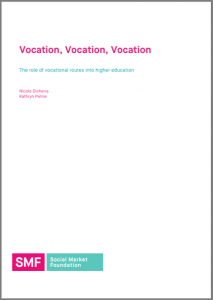 A new report from the Social Market Foundation with University Alliance and Pearson, calls for greater recognition of the 'important contributions' of vocational entry routes to higher education (HE).
The report, Vocation, Vocation, Vocation, includes a foreword from Professor Edward Peck, University Alliance Treasurer and Vice-Chancellor of Nottingham Trent University.
Commenting, University Alliance Chief Executive Maddalaine Ansell said:
"Vocational qualifications like BTECs have made an important contribution to expanding access to HE over the last decade. Complementing the A-level route by combining knowledge with real-world practical applications, their blend of academic and technical skills are also well suited to Britain's future economic needs.
"Alliance universities are in the vanguard of efforts to recognize the value of these qualifications and to support students entering with vocational qualifications to succeed.  Collaboration, learning from best practice and providing appropriate support at all stages of the student journey are key to this.
"As T Levels are introduced as a new alternative qualification from 2020 onwards, learners need the confidence that all pathways offer progression routes – including to university and postgraduate study – and don't end up being dead ends."
Click on the link or the image to read the report.