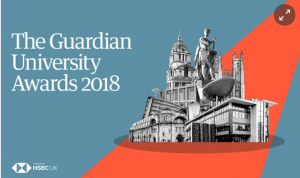 Alliance universities took home top prizes from the prestigious Guardian University Awards last week.
They included the University of Central Lancashire (UCLan) which picked up the Internationalisation award for its response in the aftermath of Hurricane Irma. Sint Maarten, the Dutch-French island where American University of the Caribbean (AUC) was based, suffered major damage to physical infrastructure during the Hurricane. Nine days later UCLan agreed to accommodate more than 700 medical students and staff from AUC so
they could continue their education. We published a guest blog about the relocation last October.
The Open University took home two awards during the night. The first for Digital Innovation recognised the university's Accessible interactive media player (AIM). The OU has more than 23,000 students who have declared a disability – more than any other European University. AIM, which runs in all modern web browsers and devices, delivers audio-visual content alongside additional features to make it more accessible to disabled people, such as subtitled, interactive transcripts, text and audio descriptions. AIM has been rolled out for all modules and since 2017 is available to around 175,000 students.
A new student tool designed to improve the way students are assessed and receive feedback gained the University of Greenwich recognition as a runner up in the Digital Innovation category. Map My Assessment gives students a clear overview of the progress they are making in their course.
The OU also received the Teaching Excellence award for introducing the internet of laboratory things (IoLT), a project which allows STEM students to do practical work online by providing remote access to laboratories and observatories. The IoLT enabling students to operate real, physical equipment from their homes, 24 hours a day such as a flow-chemistry reactor, electron microscopes, optical telescopes and analytical chemistry tools.
Coventry University was runner up in the Teaching Excellence category for introducing a number of measures to improve teaching quality and allow students to achieve their potential while studying. These included empowering the student voice by reorganising the structure of student representation so that it matched the makeup of the organisation, promoting accountability and providing opportunities for undergraduates to learn abroad.
A new category – Course and Curriculum Design – was introduced this year and the University of Huddersfield was its first winner for Flying Start. This initiative provides an introduction to undergraduate study that helps raise aspirations and encourages new students to build connections with other students and their tutors. The programme was set up following recognition of a need to improve university experience for black, Asian and minority ethnic (BAME) students and those with Btec qualifications. Flying Start also helps broaden the horizons of students who live at home while studying.
The University of Salford was one of the runners-up for this category for Salford Business School's professional development module for second year undergraduate to improve their understanding recruitment process and boost employability.
Nottingham Trent University was also runner up in the Widening access and outreach category for NTU progression scheme which offers disadvantaged young people tailored academic support and traditionally unobtainable development activities such as securing a work placement or participating in challenging outdoor activities such as horse riding and rock climbing.
You can find all the winners and runners-up here