Ashfaque Alam is in the first year of his PhD at Sheffield Hallam University 
Ashfaque Alam, a lecturer from Bangladesh, is undertaking a PhD at Sheffield Hallam University producing clean and free energy using sunlight. Solar energy can have a huge impact in developing countries like his home country, empowering those in need and aiding rapid economic development.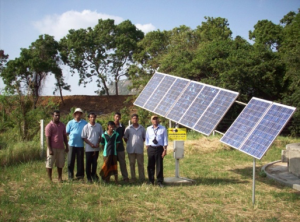 He is helping to develop the next generation of thin film solar cells which utilise electroplated semiconductors and graded band gap device structures. One of the key challenges for solar energy is conversion efficiency which is currently around 15% and Ashfaque aims to improve on this through his research. 
Ashfaque was inspired to undertake his PhD at Sheffield Hallam University under Professor I. M. Dharmadasa (Dharme) who has worked for over 35 years in this area. In addition to his technical work on solar energy conversion, Professor Dharmadasa designed and piloted in 2008, a project called "Solar Villages" in Sri Lanka to empower local communities. This project was monitored for its impact on the sustainable development of the community and is now entering its replication stage, with the help of the Sri Lankan government. The plan is to replicate this project within and outside Sri Lanka, and Ashfaque hopes to bring this project to Bangladesh where it could have a tremendous impact. 
Back home in Bangladesh, Ashfaque has already worked as a lecturer and when he completes his PhD, he hopes to continue his research and help train young people in the field, building much-needed capacity for clean energy applications in the society.