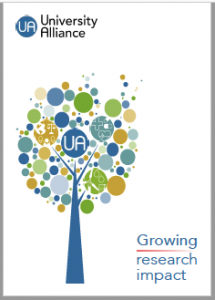 This summer will see the first cohort of students graduating from the UK's largest multi-institution doctoral training partnership, first launched by University Alliance in 2015.
To highlight the success of its Doctoral Training Alliance (DTA), the mission group is publishing Growing Research Impact (click on the image to download) illustrating the ways the programme has achieved impact and is helping to address global challenges such as healthy ageing and clean energy.
Examples cited in the report include research into potential therapies for Alzheimer's Disease and cancer, alongside the development of microbial fuel cells and research exploring whether fluoridation interferes with iodine uptake, which could have implications for childbearing women.
The DTA is a unique cohort-based doctoral training programme with a strong interdisciplinary and industry-focused ethos. Its objective is to train and develop highly employable researchers in strategically important areas.
Having initially launched with a focus on applied biosciences for health in 2015, the DTA subsequently expanded to cover energy in 2016 and social policy in 2017. There are more than 150 PhD students currently enrolled in the programme across 19 universities, including both Alliance and non-Alliance institution with new applications from non-Alliance members to join.
The diversity profile of the DTA compares favourably to other schemes of its kind, with both a higher proportion of female and ethnic minority students and also of mature students, reflecting the programme's flexible delivery. Overall, 64% of DTA students are 25 and above, returning to study after experience outside formal education.
External quality assurance is built in to the programme through formal Independent Advisory Groups representing industry and third sector organisations including Big Lottery Fund, Public Health England, Legal & General and Philips International.
Alongside this, the DTA has established a formal partnership with Innovate UK's Knowledge Transfer Network and has secured external funding from Arts Council England as well as a €6.5m grant from the EU's COFUND programme.
Commenting University Alliance acting Chief Executive Liz Bromley said:
"At a time when the government has set an ambitious target for spending on research and innovation, training the next generation of researchers equipped with a broad range of skills has never been more important.
"University Alliance's Doctoral Training Alliance offers a new and distinct model, closely aligned to industry and tackling global challenges. Its geographical spread gives students access to a broader network of support, research equipment and learning environment.
"The programme has gone from strength to strength – its growth demonstrates how University Alliance has been able to respond in a proactive, practical way to support its members' aspirations. The recent award of €6.5m for the programme from the European Union is fantastic news and a ringing endorsement of the DTA approach, and we look forward to seeing it continuing to grow in future.
DTA National Director Prof Tara Dean said:
"The success of our DTA programme can not be underestimated and its size is a testament to that. To have 150 PhD students in three years is something that we are proud of. It is the largest multi-institution PhD training programme in the UK whose focus is to produce highly employable researchers who will grow the UK's capacity in basic, applied and experimental R&D."
Notes to editors:
For more information on the DTA programme, please visit www.unialliance.ac.uk/dta/
The report will be published on the UA website alongside a series of case studies illustrating the impact that DTA research students are having in their fields. Visit Growing Research Impact case studies to find out more.
For media queries, contact Gabriel Huntley, Head of Communications and External Relations on 07890 626 099 or email: Gabriel@www.unialliance.ac.uk