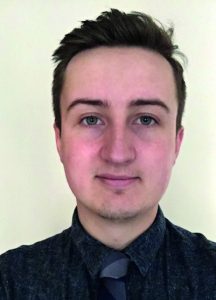 James Robson is in the first year of his PhD at UWE Bristol 
Trillions of other organisms share our bodies which may have an impact on our health. James Robson is fascinated with the gut microbiome and wants to understand what relationship it may have with colorectal cancer. 
Colorectal cancer – also known as bowel cancer and colon cancer – is one of the largest killers in the developed world, and has the second highest incidence of any malignant disease in men and women. In the UK, bowel cancer is one of the most common types of cancer, and most people diagnosed with it are over the age of 60. 
The gut microbiome is a complex ecosystem of commensal, symbiotic and parasitic organisms, which are in constant communication with the gut, the immune system and the nervous system. By identifying bacterial species and their metabolites as contributors or indicators of a disease state, James' research could potentially lead to the development of new diagnostic measures and treatment strategies.