Molly Browne is in the first year of her PhD at Coventry University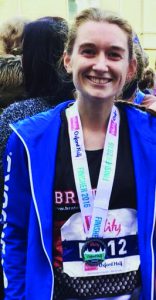 When Molly was undertaking a work placement as part of her Physiotherapy BSc in an elderly residential rehabilitation centre, she saw how rapidly patients lost functional mobility, and consequently, their independence, as a result of a hospital stay due to injury or illness. 
Many patients were eventually discharged with less physical ability and mobility than they had before – and once they returned to their own homes or care homes, the likelihood was that this decline would continue. 
This inspired Molly to undertake a PhD at Coventry University to contribute to the evidence for promoting activity to combat this decline, maintain independence and encourage healthy ageing. Her research will focus on the impact of outdoor environments and outdoor-based activity on the physical and mental well-being of residents living with dementia in UK care homes. As a result she hopes her work will lead to a cultural change within care homes to increase residents' engagement with outdoor environments and outdoor activity, and improve their physical function and quality of life.