Since degree apprenticeships were introduced in 2015, Alliance universities across the country have embraced the opportunity to drive skills development and collaboration with businesses. We work with many businesses to co-create courses that teach the right calibre of expertise in the areas most important to them. For students, it's a fantastic blend of academic theory and the real-world experience they get from their employment. For businesses, degree apprenticeships are a cost-effective way for them to develop the skills of their existing and new workforce by channelling investment through the apprenticeship levy. In uncertain times, it is even more important for companies and universities to work closer together and meet the changing needs of employees and businesses, and University Alliance and its members have made this a core focus of our mission.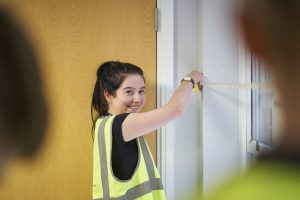 Last week, we invited businesses such as BT and London Energy to the University of Hertfordshire to tell us whether apprenticeships have added value to their organisations and what more can be done to improve them. The message from them was clear – degree apprenticeships do add value, but this needs to be communicated to young people, their parents or guardians, and schools. We need to convince more students to choose this learning pathway.
Traditionally, apprenticeships have been viewed as a vocational alternative to learning post-school years. Jobs stereotypically associated with them are often technical, but this is not the case. The programmes we and many Alliance universities teach cover a broad range of industries and specialties including legal, health and digital. We have worked in collaboration with a regional law firm, Taylor Walton, to co-create a solicitor degree apprenticeship programme and add to their existing cohort of highly skilled trainees. The apprentices carry out the same work as solicitors under supervision, such as drafting claim forms and witness statements, whilst completing their degree at the same time.
The value of degree apprenticeships is evident, but schools need to be empowered to promote the benefits to pupils and parents. This includes better information and guidance on careers at an earlier age and a simpler application system for degree apprenticeships, as straightforward as they are for undergraduate degrees.
It was also clear from businesses that as the number of degree apprenticeships continue to rise, more organisations are looking for universities that embrace flexibility, those open to different ways of teaching. Small businesses, particularly within non-tech industries, struggle to find the resource needed to train an apprentice and flexible learning may be more suitable for their needs. Apprenticeships are designed to require at least 20% off-the-job training, and this too can be an issue for many small businesses to manage.
To address this, the University of Hertfordshire has a robust development and approval process in place for apprenticeships. Employers are consulted in this process, not only to understand the demand and the needs of their workforce, but to seek regular feedback and involvement from them in curriculum design, structure and the way it is delivered. This helps us ensure the needs of the apprentice and the employer are met, regardless of the businesses' size.
Our meeting with businesses last week is just the beginning of a continuing collaboration. We're aiming to build a wider network of professional bodies, employers, training providers and other key stakeholders so that we can collectively continue to build on the solid foundation degree apprenticeships have delivered already and ensure they can meet the needs of all businesses, large and small.