The Doctoral Training Alliance (DTA) recently held its Images of Research 2020 competition awards, showcasing the very best of Alliance universities early career research talent and creativity in science communications. A full write-up of the event can be found here.
Earlier this year, DTA PhD researchers were invited to submit an image summarising their research, along with an accompanying blurb for the DTA Images of Research competition. Two awards were up for grabs, the Judge's Choice and the People's Choice Awards.
Since the Awards, the winners and runners-up spoke with the DTA on being part of the Awards.
Louise Mitchell (Bioscience, University of Salford), who won the Judge's Choice for her image,  Finding positivity through planting and protecting health through a pandemic: a positive view from Fay and Alex, said:
"I am very surprised and honoured to have won the UA DTA Images of Research 2020 competition – Judges Category.
"The UA DTA has provided me a platform to conduct research that I am really passionate and enthusiastic about. However, it extends more than this, they have given me the opportunity to access training to improve my skills, whilst also giving me a network of researchers across the UK to help me through my studies (especially Molly Browne and Emma Cowley, who have really kept me going through this journey).
"I would also like to recognise all of the other entries, they were amazing, and really showed the length and breadth of the research work currently being undertaken – even in a pandemic. I would like to thank the judges, and those involved in hosting the competition, with some even giving up annual leave to be involved. Lastly, I am indebted to the subjects of the photo: Fay and Alex, for being my models and enduring the rain with me for this photo – your happiness and dedication has kept me smiling."
Cecilia Gialdini (Social Policy, Ulster University), who was runner up in this category with 'Linguistic justice for the world', said:
"I love being part of this heterogeneous community where social scientists, engineers, and bio-scientists work side by side to reach a more equal, healthier and more sustainable society"
The winner of the People's Choice Award was Ifrah Mussa (Energy, Kingston University) for her image The snow never bothered me anyway!. Commenting on her win, Ifrah said:
"I was taken by surprise when I heard that I won the DTA Images of Research 2020 Competition – People's Choice Award. All the entries were amazing, and I loved learning about each and every research conducted my fellow DTA researchers.
"I would like to thank everyone who voted for me. Presenting my work at WinterWind 2020 was one of the biggest milestones for my research and receiving an award that is connected to that experience makes it all even more special. I would further like to thank the DTA team for organising this competition and providing us with a platform to showcase our work. I consider myself extremely lucky to be part of the DTA programme. It gives me a sense of belonging and a wonderful group of cohorts to share my journey with. I am grateful for the support they provide especially during this pandemic to keep us going."
Runner up of the People's Choice was Lénaïc Borot (Bioscience, Liverpool John Moores University), for Does the activity of the brain allow me to watch what you're watching.
The winners and runners up – Ifrah Mussa (top left), Louise Mitchell (top right), Cecilia Gialdini (bottom left) and Lénaïc Borot (bottom right)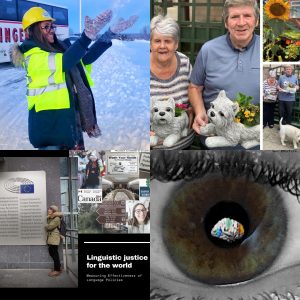 All the entries can be found here.
The DTA Images of Research Awards is an annual event, where DTA PhD researchers are invited to submit an image summarising their research, along with an accompanying blurb for the competition.  The competition is usually held across DTA's residential schools, and attendees vote on winners at the event. This year is the first time DTA have held a joined up awards event – a positive outcome of this year's shift to virtual events.