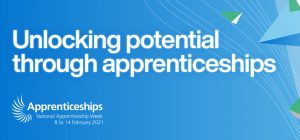 To celebrate National Apprenticeships Week, the University of Hertfordshire hosted a virtual panel event for employers to explore the role apprenticeships will play in Hertfordshire's economic recovery and how they can better meet the needs of local businesses.
Gillian Keegan, Minister for Apprenticeships and Skills, was invited to kick-start the discussion. In her opening statement, she said that the quality and breadth of apprenticeships has "never been higher", adding that the government was working towards creating an easier, simpler and more accessible apprenticeship system for small and medium-sized enterprises.
The panellists were then asked to tackle two key questions. The first asked them to consider how an apprenticeship infrastructure can be achieved that works for employers, at both a national and local level. For the second topic, they discussed how academic and training expertise in the county can be utilised to deliver high-quality apprenticeships that meet the needs of employers. The panellists included key stakeholders in Hertfordshire's apprenticeship provision:
Bim Afolami, MP for Hitchin and Harpenden
Professor Quintin McKellar, Vice-Chancellor at the University of Hertfordshire
Adrian Hawkins OBE, Chair of Hertfordshire Local Enterprise Partnership Skills and Employment Board
Sally Hopper, Assistant Director of HR at Hertfordshire County Council
Kate Barclay, Interim Head of Skills Programme at the Cell and Gene Therapy Catapult
Rani Naidoo, Service Manager for the Children Looked After Service and a Degree Apprentice at Hertfordshire County Council
At the end of January, the Department of Education published their Skills for Jobs white paper, which aims to give employers a central role in the development of Local Skills Improvement Plans that will shape technical skills and meet local labour market skills needs. Responding to a question from Bim Afolami asking how these Local Skills Improvement Plans might work, Minister Keegan said:
"The employers will lead them and that means a broad range of employers need to be involved. That's what's going to be critical to their success – how many employers come forward and get stuck in. I don't think there's ever been a time when employers in this country have been more invested in the skills coming out of the school, college or university gates. Globally there's massive skills shortages in many areas, from construction to software development, so we really do have to invest in building the skills pipeline."
Speaking after the event, Professor Quintin McKellar, Vice-Chancellor at the University of Hertfordshire, said: "It's clear that training providers and employers alike welcome the proposals outlined in the Skills for Jobs white paper, which puts employers at the heart of post-16 skills. The University of Hertfordshire is already working in partnership with a number of leading regional employers, including Hertfordshire County Council and the NHS, to develop highly regarded apprenticeship programmes. We consult with stakeholders across the public and private sector to ensure our programmes fill skills gaps, are tailored to specific industries and address the needs of businesses.
We look forward to continue working with employers to improve the accessibility and flexibility of apprenticeships, and to further expand provision in the region to meet their skills needs."
The event is available to watch on their YouTube channel.