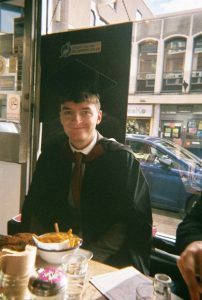 My name is Ben and I identify as a gay man. I have spent much of my academic life studying topics that can be surmised as falling within the discipline of social sciences. I am currently in the process of writing up my PhD, which examines Public Spaces Protection Orders, a measure used to tackle anti-social behaviour within public spaces. As I progressed through secondary school, and the troubles that this environment brings for a number of students, but particularly LGBTQ* attendees, I envisaged university as a utopian escape, where I could be free to be open with myself, peers and colleagues without prejudice.
Therefore, I was surprised to read that in 2016, it was stated that there was a disproportionate number of academics within higher education that openly identified as part of the LGBTQ* community, despite the increased statutory protection for individuals under pieces of legislation such as the Equality Act 2010. As we approach National LGBTQ* History month, which occurs each February, it is important to reflect on what has been achieved in making higher education and more accepting and diverse place, whilst also acknowledging the work that still needs to be completed to overcome the existing challenges.
Fortunately, throughout my time at Sheffield Hallam University, as both an undergraduate Law student and now as a member of staff within the Department of Law & Criminology, I have avoided discrimination. However, this is unfortunately not the case for all students within UK universities, as research by Stonewall found that on university campuses, 42% of LGBTQ* students have hidden their identity for fear of discrimination, and 47% state that have been the target of negative comments or conduct from their peers. Further, discrimination against LGBTQ* individuals has previously been found to be more prevalent in the scientific and engineering departments of universities. All this prompts consideration as to what can be done to support the wellbeing of DTA researchers who identify as part of the LGBTQ* community.
Diversity and representation are especially important to the DTA as part of University Alliance, as has been set out by its current chair, Professor Debra Humphris. As part of an attempt to promote and develop a more inclusive research experience for postgraduate researchers, DTA and its Alliance universities have established an LGBTQ* social group for the benefit of its research students. As DTA students reside and study in a number of different universities across the UK, a network such as this can allow for support in a time when ordinary DTA events, such as the Annual Summer School, have largely been transferred to a virtual setting. Recognising the challenges that are faced in 'coming out' at any age, this network will be open to all – including those who may not identify to the general public as LGBTQ* but wish to part of a community with their peers. Providing an openly inclusive environment should not only benefit the students within this community, but also seek to change behaviours and promote inclusivity from the student community as a whole.
Whilst higher education could be perceived to be an inclusive environment for prospective students and members of staff, and an opportunity to flourish as an individual, both professionally and personally, it is clear that more could be done to promote inclusivity. The DTA LGBTQ* network may just be a start, but it is an important start, and one that I am grateful to be a part of; something that I intend to continue exploring further as my career progresses.
If you are a DTA researcher and would like to join the LGBTQ* group, please get in touch.
Benjamin Archer: DTA LGBTQ* group coordinator and Associate Lecturer and PhD student, Sheffield Hallam University – b.archer@shu.ac.uk – @benjaminarcher_
To mark LGBTQ+ history month, Ben spoke with the Chair of University Alliance Professor Debra Humphris, one of the few openly LGBTQ+ leaders in the higher education sector, for an 'in conversation with' talk. During their conversation, they discussed the importance of having inclusive networks and safe spaces for LGBTQ+ academics, the work that Alliance universities are doing to improve equality and diversity within their institutions, and their personal experiences of being openly LGBTQ+ within the university context. See the full recorded conversation below.