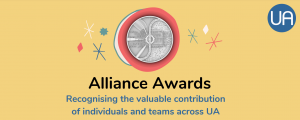 We have opened the nominations for our #AllianceAwards21 event this year, looking to celebrate the hard work and dedication of those working within our member institutions. Now in it's second year, the six Alliance awards are based on UA's principles of working, and recognises those individuals and teams that have demonstrated the behaviours and values that, as a collective of Alliance universities, we believe are important. This year we have also introduced a new award category, celebrating the achievements of our Doctoral Training Alliance alumni.
The six categories are: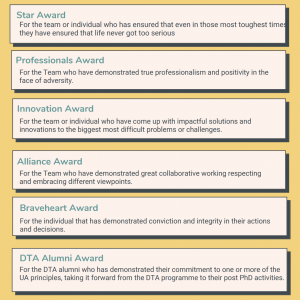 Nominations close on 7th May – find all you need to nominate a colleague or team for their inspiring work here.
The Alliance Awards event is due to be held in the summer, so watch this space for more information, and follow our hashtag on Twitter #AllianceAwards21.