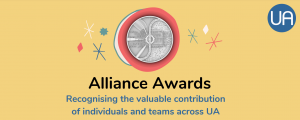 A university vaccination hub, a social enterprise team working to support a bakery that trains and employs refugee and migrant women, and an inspirational DTA mental health ambassador are all amongst those individuals, teams and initiatives shortlisted as part of University Alliance's 'Alliance awards' 2021.
In a shortlist announced today, UA revealed the 22 nominations who have been selected by panels of judges for their inspiring work and contributions, with the winners of the 6 categories due to be announced at an online event on June 23rd.
The Alliance Awards are our chance to celebrate the hard work and dedication of individuals and teams from across the UA membership, and recognise their valuable contributions to their university communities and the higher education sector. Each award category is based around the UA principles of working, and recognises the colleagues that have most demonstrated the values and behaviours that we as an Alliance believe are important.
Almost 100 nominations were received, from across the Alliance universities, key stakeholders and associated networks. 6 different panels of external judges including senior leaders from UCAS, QAA, Innovate UK and Research England; and journalists from HEPI and University Business, worked hard to whittle the long list of nominations down into the shortlist across the 6 categories. Many of the judges commented on how difficult it was to select a shortlist from a group of such amazing nominations.
You can read more about each of the shortlisted nominees here.
The awards event will be held on 23rd June 2021 at 4pm, where the winners from each shortlist will be announced, and teams across the Alliance will have the chance to come together to celebrate the work of colleagues, in what has been a particularly challenging year.
Vanessa Wilson, University Alliance CEO said:
"The strength of the shortlist is testament to the standard of nominations received this year. I know that our judges had a really difficult task choosing from the almost 100 submissions we received; with each one telling a compelling and moving story of the dedication and determination of our colleagues across the Alliance.
I continue to be deeply impressed by and proud of the hard work of our members and their teams, and I look forward to celebrating the award winners and indeed all those nominated during the event later this month."
---
Sign up for the Awards event here.
With thanks to our panel of expert judges who joined us from across the sector to help judge this year's Alliance awards:
Gary Loke, Advance HE; Anna Britten, University Business; Ceri Nursaw, NCEE; Tamsin Mann, PraxisAuril; Daniel Moore, Research England; Jo Burgess, Innovate UK; Joe Marshall, NCUB; Douglas Blackstock, QAA; Claire Marchant, UCAS; Nick Hillman, HEPI; Caren Milloy, Jisc; Clare Viney, CRAC; Owen Gower, UKCGE; Helen Snaith, UKRI.
---
University Alliance Awards 2021 Shortlist
You can read more about each of the shortlisted nominees here.
Alliance award

University of Hertfordshire's 'Changed World' digital archive initiative, capturing the personal and professional experiences of the Covid-19 lockdowns.
Teesside University – For the co-creation of their staff Values and Behaviours Framework with over 100 stakeholders.
Coventry University's music technology team – For developing an internationally collaborative music creation project.
Kingston University – For the delivery of their community Vaccination centre.
---
Innovation award
Coventry University's Students' Union Commercial Team– for finding new and innovative ways to generate income during the pandemic.
University of South Wales Research Team-who developed a rapid diagnostic test for Covid-19.
Birmingham City University's 'eXtended BCU' Research, Enterprise, and Employability Project – defining the new normal with interactive virtual representations of physical spaces, so staff, students and industry can develop hybrid learning communities and foster collaboration.
Kingston University research team who co-produced learning events on end-of-life and bereavement care for people with learning disabilities during the pandemic
---
Star award
Tracey John, UWE Bristol– for her energy, enthusiasm and commitment to the wellbeing of her team.
Anglia Ruskin University admissions team– for generating team spirit, support and connectivity through virtual activities.
Entrepreneurship Team, UWE Bristol– for developing a pioneering degree programme underpinned by experiential, team-based, self-managed entrepreneurial learning.
---
Braveheart award
Birmingham City University lecturer in fashion business and promotion Sophie Johnson, for her energy, inclusiveness and positivity in the face of adversity, and her passion taking the work of the department to communities outside the university
Dr Louise Taylor-Bunce, Principle Lecturer for Student Experience, Oxford Brookes University– for her work in developing anti-racist practices.
University of Greenwich Vice Chancellor, Professor Jane Harrington– for her compassionate leadership and inspiring engagement with the university community.
---
Professionals award
University of Hertfordshire Business Development Skills Sales Team -for supporting businesses and partners across the region during the pandemic.
Staff at the University of Greenwich Schools of Science and Engineering – for transforming the sports hall on campus into a laboratory to deliver practical learning.
University of Hertfordshire Technical Team, School of Physics, Engineering and Computer Science – or creating a 'lab at home' for students to continue laboratory work whilst studying at home.
Coventry University Social Enterprise Team – for supporting business start-ups and enterprises within the community, and addressing social challenges during the pandemic.
---
DTA Alumni
Rob Seaborne Liverpool John Moore University for his proactive engagement in leading and developing mental health resources and having an open and honest approach
Molly Browne Coventry University for having a positive impact upon peers and demonstrating a collaborative, supportive and collegiate approach
Naomi Burn Teesside University for working collaboratively with colleagues across different projects and demonstrating a professional, innovative and fun attitude
Pascal Schirmer University of Hertfordshire for the fundamental role he has played in supporting peers and continuing collaborations in a positive and supportive manner