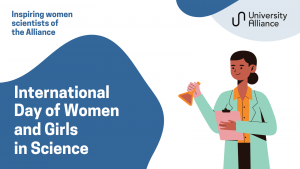 Today marks International Day of Women and Girls in Science, and to celebrate, we have pulled together profiles of some inspirational women scientists from Alliance institutions. It's a chance to showcase their amazing work, and the ways in which they support other women science, whilst highlighting some of the challenges that exist to them in the field.
Among other areas, research carried out by Professor Simonetta Manfredi of Oxford Brookes Universities has revealed the inequalities that exist in commercialising research; that far less women than men 'spin out' their findings into successful enterprises. It has shed light just an element of a research culture than can create difficulties for women. At University Alliance, we are committed to addressing these inequities within research and innovation.
But despite the challenges that exist, the inspiring women scientists of the Alliance have continued to carry out ground breaking research and innovation. From the worlds of microbiology, sports science, ethnic inequalities in health and more, women scientists at Alliance institutions are breaking through stereotypes, bolstering other women and proving that being a woman in the field of science is undoubtedly a strength.
Find their profiles on our dedicated page here.