University Alliance

>

Inspirational women of the Alliance

>

International Day of Women and Girls in Science 2022
International Day of Women and Girls in Science 2022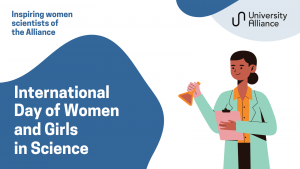 The International Day of Women and Girls in Science is a chance to celebrate fantastic women scientists in the UK, profile some of their brilliant work and help provide inspiration for the next generation of girls in science. It is also an opportunity to highlight some of the challenges that they face as women in the field.
Research carried out by an Alliance member has revealed inequalities between men and women in the commercialisation of research, wherein there are far less women who successfully 'spin out' their findings. These discoveries, released by Professor Simonetta Manfredi at Oxford Brookes University, shed light on just an element of research culture that exposes the difficulties that women experience throughout their work in science – from the lab and the classroom, to the realms of funding and research enterprises. At University Alliance, we are working to address these inequities that exist to women and all individuals with protected characteristics in the world of research and innovation.
We've pulled together profiles of women scientists throughout our Alliance institutions, which showcase not only their experiences as women in the field, but also their incredible research specialisms and how being a woman in science is undoubtedly a strength. Bolstering other women, breaking down stereotypes as well as carrying out ground-breaking research and innovation; read through our profiles to see what our inspiring women scientists of the Alliance are made of.