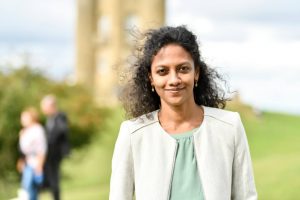 Surya is a third-year MSCA DTA3/COFUND Energy fellow, studying at the University of Hertfordshire

Tell us a bit about your career in science and how you came to focus on your specialism.
I have always preferred to study something which I can see or feel in my everyday life, which has an impact on the society. When I finished my higher secondary education, I decided to take up Civil Engineering.
From the beginning of my undergraduate course, I was fascinated by construction and building materials. So, during my final year, I applied for and got an opportunity to do a summer fellowship in the Building Technology and Construction Materials Department of IIT Madras, India. There, I was able to see and learn about the ongoing research projects. This opportunity introduced me to the possible research in this field and inspired me to take up research in building materials.
Accordingly, I chose my post-graduate course. It was a postgraduate research program in engineering (PGRPE) in CSIR-Central Road Research Institute (CRRI), Govt. of India. This course experience in CRRI equipped me with the tools needed for research.  After that I worked as an Asst. Professor in Madurai, India. Later I joined as a scientist in CSIR- Central Building Research Institute, Roorkee, Govt. of India. Presently, I am on a sabbatical from the Institute to pursue my PhD.
What made you want to become a scientist/academic?
Joining AcSIR – CRRI was the beginning of my transition into research. During this period, I worked on Experimental Investigation on Structural Properties of Recycled Aggregate Concrete. As a part of curriculum, we were also taught theories and concepts with real time case studies by the scientists who were working in that particular field. Being trained by scientists who work on societal and industrial problems gave us hands-on training in every step-in research, from how to approach a problem to how to write a report.
I enjoyed the nature of the work. Being in lab and performing different experiments everyday was fascinating.
Did you have any role models/anyone that inspired you while you were early in your career?
I may not be able to pinpoint one person, but I would count myself fortunate as I have always been surrounded by people who are nurturing. Also, being exposed to real life problems and industrial research during my post-graduate made the choice very easy for me.
Which barriers would you say exist to you as a woman scientist and how can we overcome them?
I would consider lack of representation as one of the major barriers for a woman scientist. For example, the construction industry is predominantly dominated by men due to the nature of the work and adverse site conditions. It has been that way since the beginning. I personally have been in sites where there were at least 300 men, and I was the only woman. This situation often means there are a lack of facilities such as washrooms etc for women and a lack of company. A situation like this might be daunting for any woman who would actually like to take up such a job.
However, things are looking better than the past decade. And I believe one way to make more women take up positions in science is to show there are more women like them out there.
Also, actively encouraging female children to pursue a career in science and helping male children realise they will have more female colleagues and counterparts in future workplaces will help them grow up into their roles where they can support and help each other.
Is there anything you do in your day-to-day work to support fellow women scientists?
I am not sure if it would count as support, but one thing I do is talk. I often chat with a bunch of women colleagues in science about work, work life balance and any problems we have faced in our work. It helps to know we are not the only ones who are going through any difficulties. We also help the newly joined women manoeuvre the process till they ease into the flow of work and the system.
Why is it important to empower women in science?
Even excluding all the greater reasons, performing science in itself is thrilling, exciting and in its own way akin to magic. It hurts me to know some girl child would not choose that excitement just because she thinks, "it is not a girl's job". It is essential to empower the women currently pursuing science to encourage women who are interested in science, to pursue it as a career in future.
Also, having more women in science is the only way to achieve a holistic solution to societal problems, as the needs, requirements and demands are different for men and women in a society with respect to health, infrastructure, transportation etc.  It is not possible to get a comprehensive solution when about fifty percent of the population are not playing any part in findings or feedback.