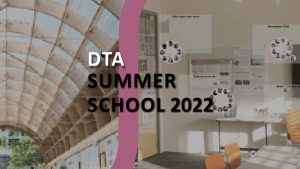 This week, on Wednesday 6th July, the Doctoral Training Alliance will be setting up shop at the University of Brighton for their annual Summer School event. This will be the first in-person Summer School for two years.
Researchers from across the DTA's four interdisciplinary programmes (Applied Biosciences for Health, Social Policy, Energy and Future Societies) will converge on the seaside campus for three days of sessions and activities, designed to support researchers in their development and in enhancing their communities.
This year's theme is centred on 'The DTA Community', in celebration of the national network of support and collaboration that has been enabled by the programme, especially during the pandemic.
There are multiple activities and networking opportunities happening during and in the lead-up to the event, which are being shared on social media.
As part of this, all researchers have been asked to submit an image for the DTA 'Exhibition of Research' competition. This will be an image that encompasses or represents their research, and will display the breadth of expertise and creativity present within the DTA community.
There is the opportunity to vote for a favourite from the submissions during the event. Links for this will be shared via social media.
Other activities include the "Tweet your thesis" competition, where DTA researchers are encouraged to summarise their thesis within 3 tweets.
The DTA reps, who are researchers that represent the community and adopt logistical roles within the DTA, such as coordinating network meetings, seminars, and communications activity, will be taking over part of the Summer School programme. They will be organising a range of social activities and skills-sharing workshops. Find out more about the DTA reps here.
Summer School attendees will be making the most of their Brighton location, by enjoying a fish and chip dinner on the Pier and a guided tour of the Royal Pavilion.
Vanessa Wilson, University Alliance CEO, said: 
"This event is an extremely important milestone for the DTA community. It allows our DTA researchers from all our DTA member universities to connect with their peers from right across the UK, to enrich their researching experiences, share ideas and best practice, and hopefully come away from the 3 days rejuvenated and turbo-boosted to continue and complete their research programmes."
University Alliance Chair and Vice-Chancellor of the University of Brighton, Professor Debra Humphris, commented: 
"Though the online event was done spectacularly well in 2020 and 2021, we are delighted be able to host the first in-person Summer School since the pandemic. I'm sure the DTA community will appreciate the benefits of in-person collaboration and connection, plus a visit to the beach."
You can follow the events and activities from the DTA summer school via the DTA and UA social media channels and via the website.