Fatima is designing an effective waste management intervention model
Fatima Muktar is a full-time doctoral candidate at the University of South Wales (USW) and a member of the Advanced Materials Testing Centre (AMTeC) group, a multi-disciplinary research centre that focuses on addressing innovation challenges facing the infrastructure sector. They also on perform research and consultancy work in Civil Engineering.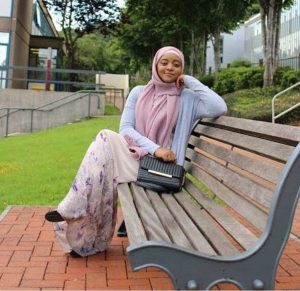 Nigerian-born Fatima has a background in safety, health and environmental management. Before embarking on a PhD, she completed the MSc Safety, Health and Environmental Management also at the USW.
Fatima's doctoral research looks at the social and cognitive behavioural factors that influence people's waste disposal practices.
She says that "improper or indiscriminate waste disposal such as open dumping, open burning, incineration, composting, and dumping into drain channels, rivers and streams is a global issue leading to environmental degradation, economic problems and affecting public health."
Her work focuses on Abuja, the capital city of Nigeria."In Nigeria, with a populace of more than 210 million, the number of inhabitants together with urbanisation and consumption behaviour has contributed to high levels of solid waste, which is not always disposed of in an environmentally sustainable manner.
"Despite the introduction of waste management programmes, regulatory frameworks and policies to address the issue, improper waste disposal remains common practice across Nigeria. This is because these efforts do not tackle the root cause, which is the role society plays in the disposal of waste."
It is the first research of its kind to focus on Abuja and analyses the gap between the major stakeholders in waste management, such as inhabitants producing and disposing of waste, policy makers, regulatory bodies and private organisations.
"Further on in my PhD, I will be designing a waste management intervention model that will not only include all stakeholders but provide a platform for people to offer feedback – this will ensure continuous improvement of the waste management system in place.
"I chose USW because it is an incredibly diverse university and provides a safe and welcoming environment to international students from all over the world…"
Fatima hopes her research will serve as best practice guidance to local authorities, policy makers, and private waste management sectors across the country, and assist them in setting up an effective waste management system.
"I am proud to be studying my PhD at USW. I chose USW because it is an incredibly diverse university and provides a safe and welcoming environment to international students from all over the world where everyone feels included and has equal rights, opportunities and respect, regardless of their background."
#WeAreInternational