Faustina helps prepare students for the world of work in new Centre for Graduate Success role
An international student who graduated with a law degree from Kingston University two years ago has returned to take up a new role equipping young people with the skills to succeed in the modern workplace.
Faustina Edward, from Saint Lucia, previously worked in supporting young people through community youth development activities in her home country before going into higher education.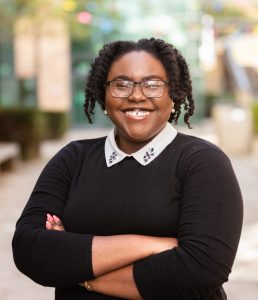 The 26-year-old is now building on that experience within the University's newly launched Centre for Graduate Success.
The centre is bringing together a range of activities across the University, including outreach and targeted support for student groups who face additional obstacles in the labour market.
Faustina's work will focus on the personal development of students within the curriculum and the acquisition of future skills – an integral element of the University's new Town House Strategy.
"Having studied at Kingston I know how inclusive an environment it has, so I jumped at the chance to apply for this role," Faustina, who was president of the Kingston University Law Society during her studies, said. "The sessions around future skills will help provide students with the tools, confidence and skillset they need to become sought-after by top employers."
Faustina decided to study law due to the similarity between the legal system in Saint Lucia and the UK. "I felt studying in England would give me the opportunity to meet people from all over the world and learn about different cultures," she said. "Choosing to study at Kingston was a real gut decision as I did not have a chance to visit the University before I arrived and based my decision on what I'd read on the website and Kingston's reputation. It turned out to be one of the best decisions I've made."
Faustina's work at home in Saint Lucia saw her named a highly commended runner up in the 2018 Queen's Young Leaders Awards. She was recognised for revitalising an after-school assistance programme for secondary pupils in Anse-la-Raye, a fishing village on the Caribbean Island, while at college.
#WeAreInternational